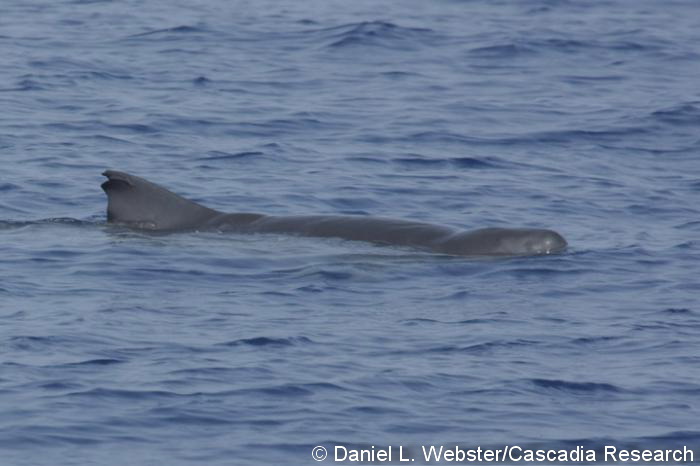 An adult dwarf sperm whale (Kogia sima) off the island of Hawai'i. Note the blunt head and large dorsal fin.
Dwarf sperm whales and pygmy sperm whales (Kogia breviceps) are the only two members of the Family Kogiidae, and both species are found in Hawaiian waters. These two species are closely related, and in fact weren't recognized as separate species until 1966. Both species are found in deep waters, and are infamous for being difficult to study both due to their preferred depths, long dives, low profile in the water, and frequent changes in direction. While most knowledge of these species comes from stranded individuals, our work represents the most extensive study of free-living individuals of this species in the world, and includes the only long-term photo-ID catalog of dwarf sperm whales. In our work we've encountered dwarf sperm whales 97 times between 2002 and late-2021, while we've seen pygmy sperm whales on only eight occasions. However, pygmy sperm whales strand much more frequently than dwarf sperm whales in Hawai'i.
To learn more about dwarf and pygmy sperm whales, you can click on one of the quick links below:
Dwarf Sperm Whales | Pygmy Sperm Whales
It is often reported that the two species are difficult to tell apart in the field, but there are a number of characteristics that allow us to discriminate the two species. Click on the image below to download a PDF copy of the information sheet with details on how to distinguish between the two species.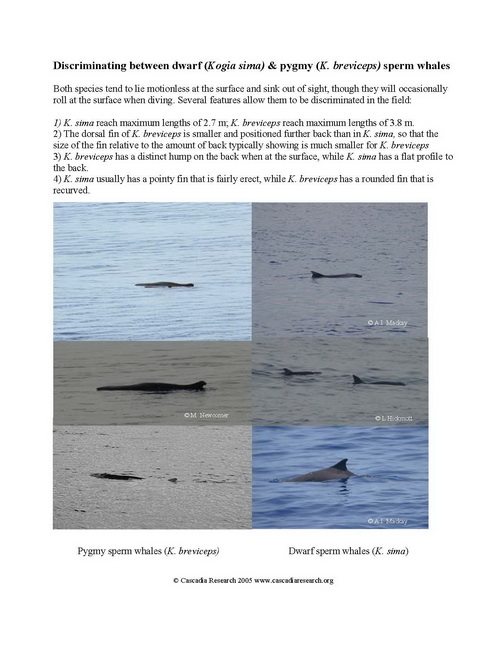 The small, island-associated Hawai'i population of dwarf sperm whales is the most well-described worldwide. While we have yet to be able to deploy a satellite tag or collet any biopsy samples of this species, we have built a long-term photo identification catalog consisting of 182 individuals, including several long-term resightings, and have collected a dozen aerial videos of behavior, as well as collected a number of eDNA samples from groups. Group sizes of dwarf sperm whales are typically small, ranging from 1 to 8 individuals (our most frequently encountered group size are single individuals).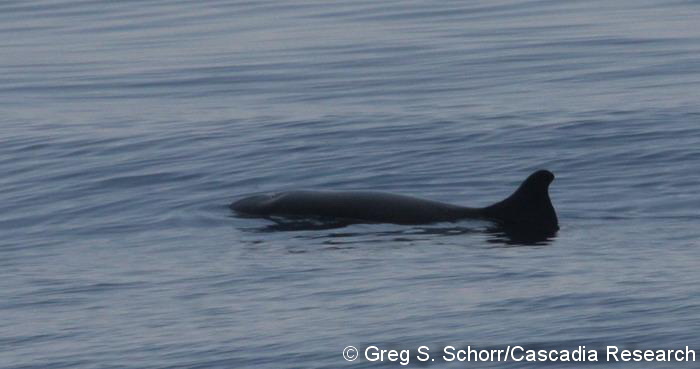 Dwarf sperm whale off Kona. Both species also have a reputation for being difficult to approach, although we have found that, while they are difficult to keep track of, this is due to their long dive times, undemonstrative surfacing behavior (most of the time they float motionless at the surface between dives), and their generally unpredictable travel patterns, rather than active avoidance of small boats.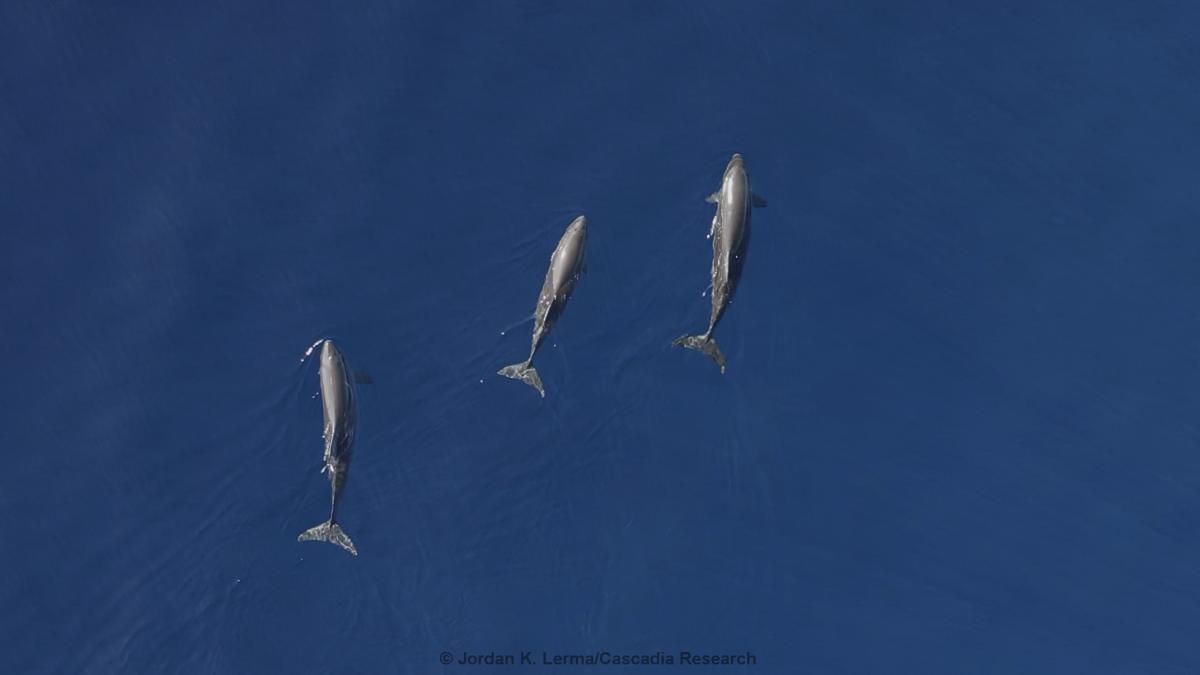 An aerial photo of three dwarf sperm whales off Kona in 2019. Recently, we've been able to use drones to gather aerial footage of dwarf sperm whale behavior. Utilizing drones in the field has increased our ability to stay with groups, as individuals tend to surface with different bearings compared to their overall direction of travel. We believe that this behavior is a response to risk of predation from large sharks. See this publication for more information about our use of drones in the field with this species!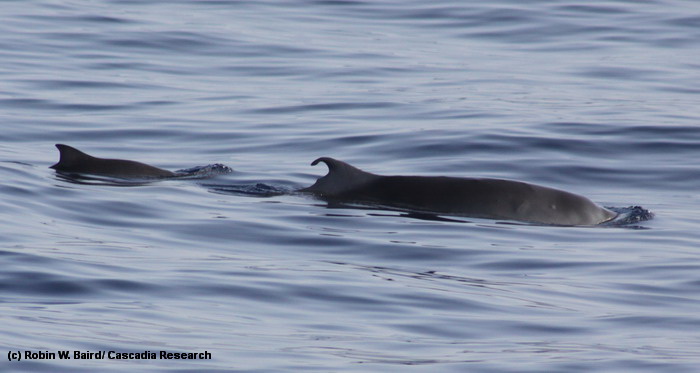 Dwarf sperm whale mother and calf off Kona. Most adult individuals that we see tend to be very well marked, with large notches on the dorsal fin or very distinctive dorsal fins. Our photo-identification catalog of distinctive individual dwarf sperm whales includes almost 200 individuals. The adult in the photo above, HIKs020 in our catalog, has been seen 14 times over a 15-year span, strong evidence of site fidelity to the slope waters off Hawai'i Island.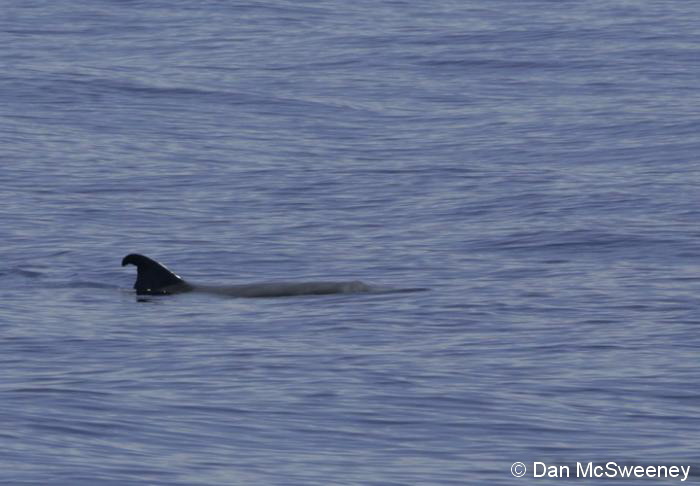 Dwarf sperm whale off Kona.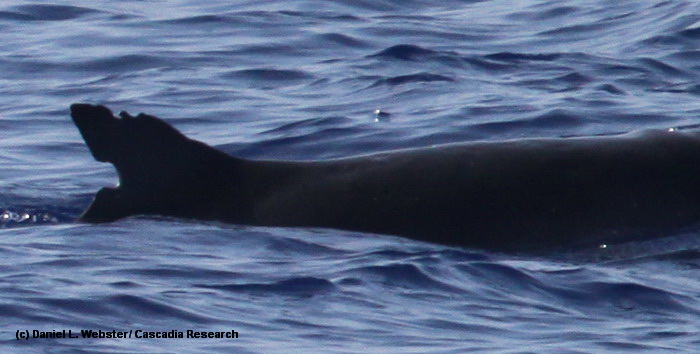 Another very distinctive dwarf sperm whale off Kona. We have also found that dwarf sperm whales, like their larger cousin the sperm whale, often shed skin even when just resting at the surface, and we have been able to collect several samples for genetic analyses just by looking in the "fluke prints" of whales after they dive.

Dwarf sperm whale with apparent line injury on dorsal fin.
The following two videos of dwarf sperm whales, taken from a drone, are part of supplementary materials for a paper we published on this species in 2021. The first shows drone video of a dwarf sperm whale with compass overlay to highlight surfacing and logging angle.
The video below shows social interactions observed between dwarf sperm whales.
Pygmy sperm whales are one of the least-frequently encountered species of odontocete in Hawaiian waters – we've only seen them eight times in the past 20 years! In spite of this, however, they are one of the most frequent species to strand in Hawai'i. Curiously, they often strand with full stomachs, so we do know a fair amount about their diet, which includes deepwater shrimp, multiple species of squid, and fish. Related to this, part of our work has been to collect and identify floating cephalopods to learn more about the species available to cetaceans and seabirds – to learn more about our study of Hawaiian cephalopods check out this webpage.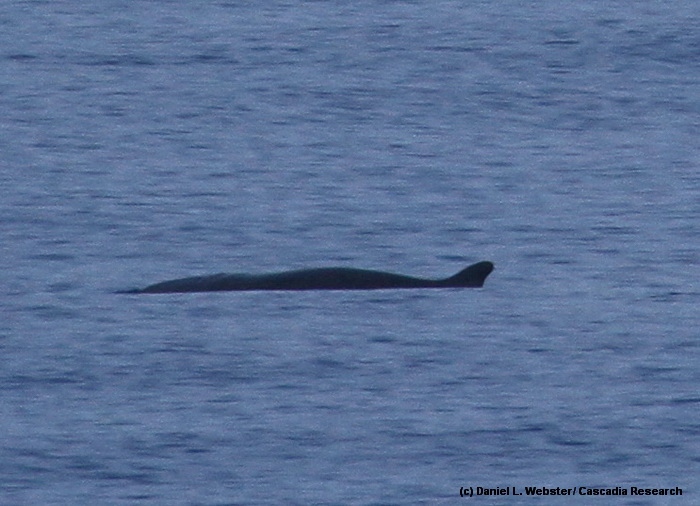 A pygmy sperm whale off Kona. We see pygmy sperm whales so infrequently we have not obtained many photos. This individual shows the very long back relative to the size of the dorsal fin, the rounded tip of the dorsal fin, and the hump in the back when logging at the surface, all characteristic of this species.
For more information on dwarf and pygmy sperm whales see the following publications:
All photos are copyrighted and should not be used without permission.
Updated November 2021.
Return to the Hawaiian Dolphin and Whale Species Page
Got photos? We have photo-ID catalogs for several Hawaiian cetacean species! If you have photos that you would be willing to share, you can learn how to submit those to us at this link, or contact us at Hawaii@cascadiaresearch.org