Current and Past Interns & Volunteers | Graduate Students
 About Cascadia Research
Cascadia Research is a private non-profit research organization founded in 1979. Cascadia receives grants and contracts, primarily from government agencies, to pursue research primarily on marine mammals. Cascadia also makes educational presentations to a variety of audiences; from technical talks to scientists at international conferences to presentations to elementary school children.  Based in downtown Olympia, Washington, Cascadia has conducted field research in the Canadian Arctic, Alaska, Washington, Oregon, California, Hawai'i, Mexico, Costa Rica, and along the Pacific coast of Central America. Cascadia has taken on interns, graduate students and undergraduate volunteers for over 40 years.
Although we study many marine mammal species, most of our current work is focused either on gray, blue, humpback, and fin whales along the west coast of North America, or a variety of species of odontocetes (e.g., false killer whales, short-finned pilot whales, melon-headed whales, beaked whales) in Hawai'i. Much of this work involves using photographic identification (photo-id), which entails using the natural markings unique to each individual within a species (such as scarring and pigmentation) to identify individuals. By tracking individuals over time we can study both their individual and population behavior and movements, as well as their population structure. This methodology is labor intensive and is what interns are primarily involved in at Cascadia. Interns typically spend long periods of time comparing photographs to our existing catalogs, but may also include digital image processing, data entry, and tasks related to catalog maintenance.
While photo-ID is a large part of what we do, we utilize a variety of other research techniques, including tissue sampling for genetics and other physiological analyses; cetacean suction-cup tagging with a variety of instruments that can record shorter term movements, dive behavior, sound, or video images; examining dead stranded marine mammals and assisting in live stranding response and disentanglements; satellite tagging a variety of species to track movements over extended periods; and studies of foraging behavior and prey sampling of cetaceans.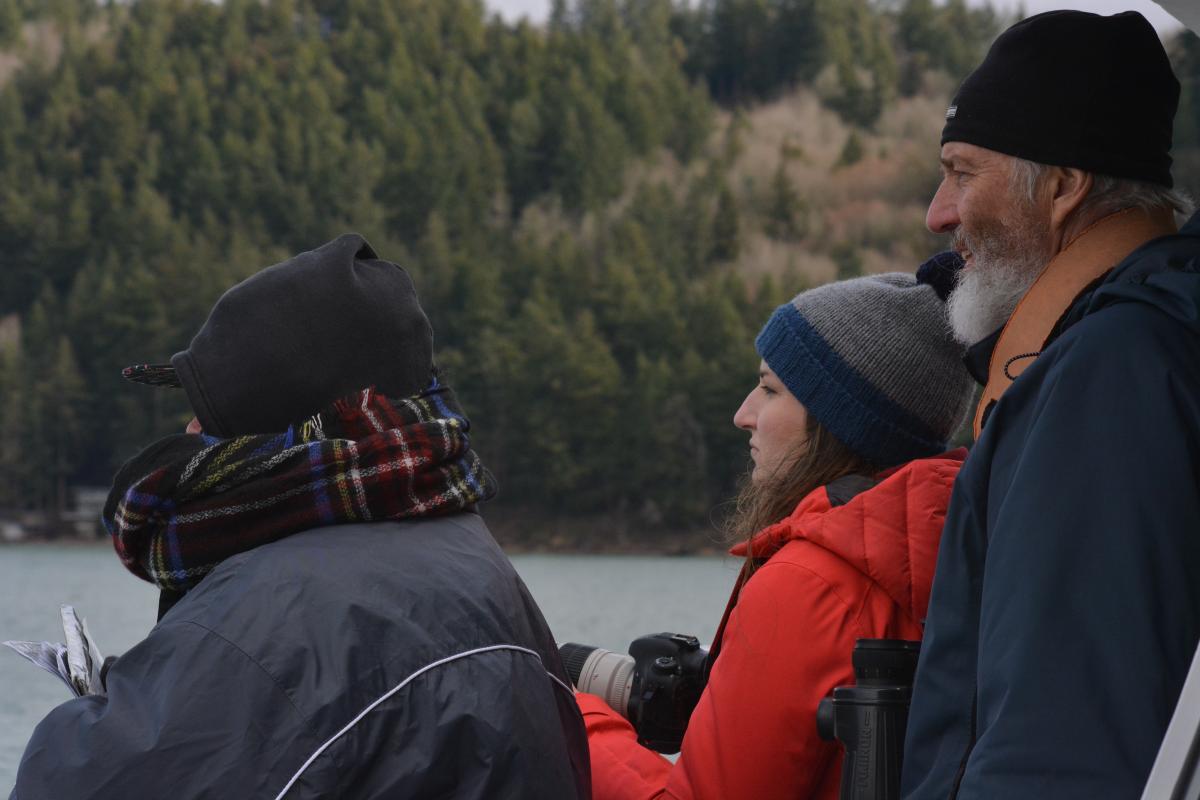 We seek out interns to help with our U.S. west coast projects and our Hawai'i research, although both internships are office-based positions in Olympia. 
Volunteer and Intern Responsibilities
US West Coast Research
Interns most often assist staff on our long-term photo-ID studies of baleen whales (e.g., humpback, blue, and gray whales) off the US West Coast and the inside waters of Washington State. This task is ever evolving as we are moving toward computer assisted matching systems but right now we still do some manual matching. In this capacity, interns will be expected to spend a large portion of their time comparing photographs to our existing catalogs, and may additionally be involved in digital image processing, data entry, and tasks related to historical catalog maintenance.

Hawai'i Research
Interns will assist staff on long-term studies on a variety of species of odontocetes (e.g., bottlenose dolphins, rough-toothed dolphins, false killer whales, beaked whales) in Hawai'i. Much of this work involves using photographic identification, a non-invasive technique that uses natural markings unique to each individual. By photographing and cataloging these markings, we can identify animals and study their behavior, movements, and population structures over extended periods of time. Interns may also have the opportunity to assist in occasional archival work, scientific communication projects, or in-office preparations for field work. For more information on Hawai'i projects, please visit our Hawai'i web pages.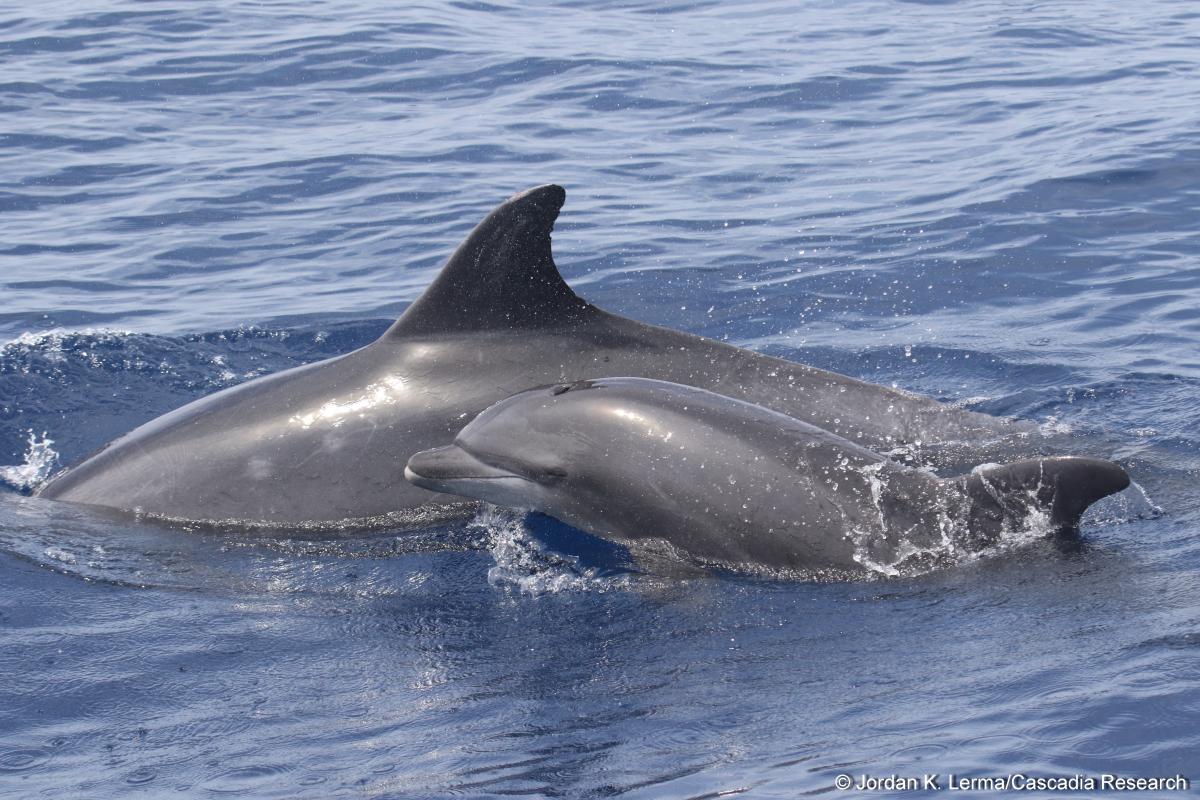 Interns involved in both programs
 will assist staff in stranding response in Washington State as they come up. This could include participation in beach surveys, data and specimen collection, data entry, and assisting in necropsies of both pinnipeds and cetaceans. Responses may involve hiking into remote areas and carrying heavy loads, and participants should be comfortable with the sight of blood, and strong, unpleasant odors.
Depending upon COVID we also have the ability to place interns on local whale watching trips to help us collect photo-id data including sighting data and photos. If allowed, this most often happens in the spring (for gray whales) and late summer/early fall (for humpbacks).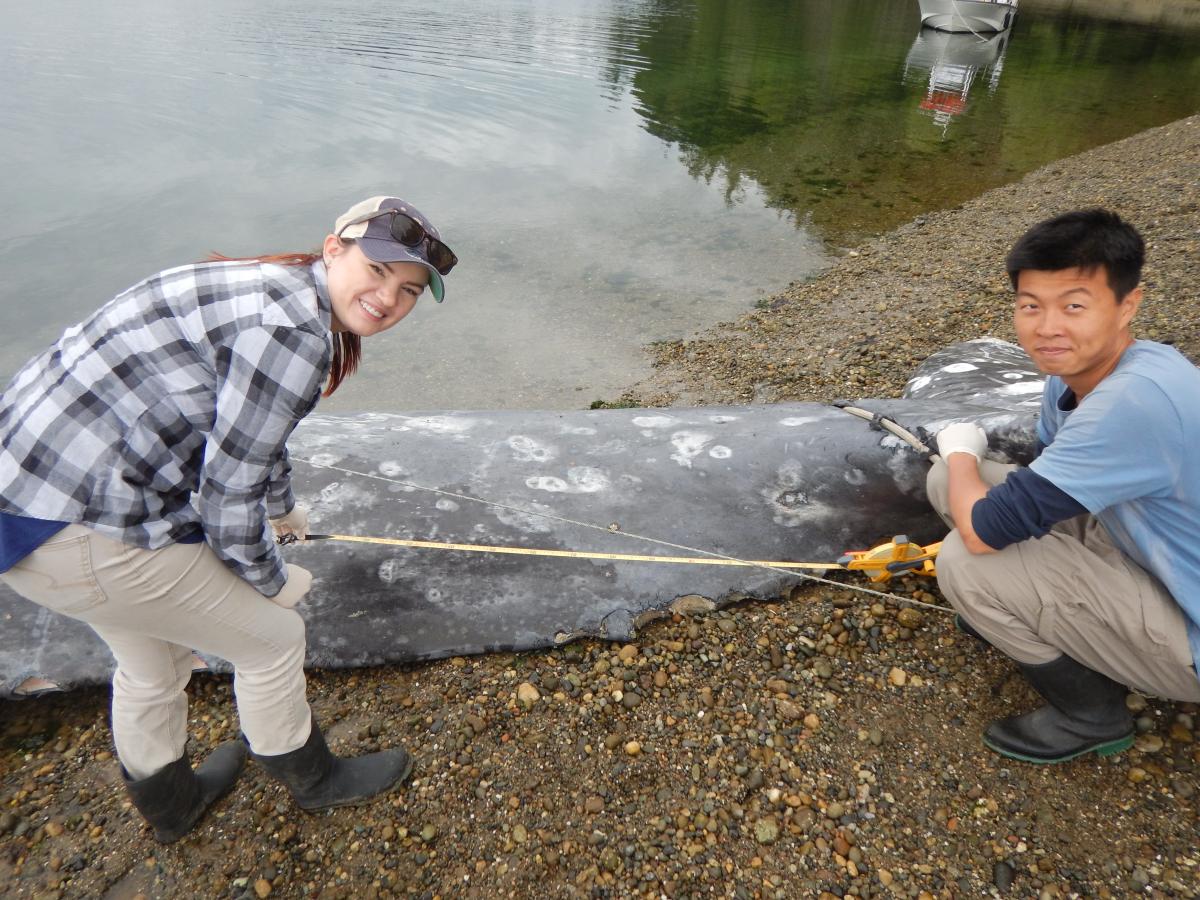 Required and Desired Qualifications for Interns and Volunteers
The following is required for consideration for a volunteer or internship position:
The ability to commit to an unpaid position for a minimum of 20 hours per week for a three-month time period (although we do favor candidates who can commit to 35-40 hours per week). If you are interested in becoming an intern with us and require financial assistance in order to do so, please see the additional application requirements in the section below for more information.
Current enrollment in an undergraduate program and some background course work in general biology. (While we prioritize applications from current undergraduate students, we welcome applications from recent graduates and graduate students as well. Please see our instructions for graduate students below if you are interested in collaborating with us as part of a graduate program, rather than doing a standard internship.)
The ability to work well with others or independently, and with various distractions going on around them.
Strong communication skills (written and oral).
Focus and attention to detail in an environment with various distractions.
The following is desired (but not required) of prospective interns:
An interest in the study of marine mammals.
Some experience with independent research.
Basic computer literacy and experience using Microsoft Office products (Word, Excel, PowerPoint and MS Access).
Basic experience with digital photography and digital photographic software.
How to Apply for an Internship Position
For formal consideration please send your CV or resume, two letters of recommendation, and a letter of interest that includes the following;
the time period you are interested in;
what you would like gain to out of the internship and how it will help you reach your educational goals;
what relevant skills, background experience you bring with you to the position;
the number of hours per week you can work, and;
if you would be seeking internship credit from your college or university, as well as the detailed requirements of your university to receive credit (e.g., research project, write-up, learning contract).
Although we prefer professional letters of recommendation (e.g. a professor or employer), we will also accept letters from other individuals (non-family members) that can speak to your academic ability, community involvement, and/or work ethic—and all should be sent from that individual directly to us.
For a US west coast project internship please send the information to:
Kiirsten Flynn (she/her/hers): kflynn@cascadiaresearch.org and
Alexandra (Alex) Vanderzee (she/her/hers): AVanderzee@cascadiaresearch.org
For a Hawai'i project internship please send the information to: Annette Harnish (she/her/hers): aharnish@cascadiaresearch.org
If you would like to be considered for either internship, please indicate that in your letter and send to all. We start considering applications prior to the final deadline such that early applicants may fill available internship spots, so early applications are encouraged.
Financial Assistance
Cascadia's internships are mostly unpaid. However, we understand that this may deter qualified candidates from applying because of financial hardships. Through a donation to Cascadia in 2020, we are able to offer a modest stipend to help offset the cost to those individuals who would most benefit. Through future fundraising efforts Cascadia should be able to continue offering some support in the coming years. It is our hope that the funds will help cover some of the housing and transportation costs incurred while interning. The stipend is paid out at the end of each full month interning for the three-month commitment and is considered a reimbursement and not pay. Funding is not guaranteed to interns continuing more than three months, an additional application may be required if an intern stays on. The amount may vary between applicants as a way to ensure the longevity of the funds and reach the most applicants in need.
Priority for financial aid will be given to applicants who self-identify as a minority. This includes, but is not limited to, the following: African-American/Black, Hispanic/Latino, LGBTQIA+, Native American, Native Hawaiian, a first-generation college student, or a student from a developing country.
Funds are prioritized for currently enrolled undergraduate college students (must be at least a junior in standing) in a science program. Successful applicants are individuals who have high promise, excellent references, and a history of work and/or community involvement. While currently enrolled undergraduate students will be given preference, recent graduates and graduate students are able to apply as well.
Financial Assistance Application
If you ARE seeking financial help we ask that you provide the information outlined above AND in addition to those requirements (letter of interest, resume, 2 letters of recommendation) please submit a written statement indicating your financial need (to whatever level of detail you feel comfortable sharing but the more detailed the information provided, the more informed decision we can make) and a third letter of recommendation that if possible could also attest to your financial need and/or their support of the financial need being sought.
The financial need statement should describe how important financial assistance might be in helping you achieve your educational goals. This could also include information on how your school tuition is currently being paid and if you receive any other scholarships or grants. Information about any financial strains you and/or your family might be under or any unique details about your situation is helpful. If applicable perhaps include a basic a budget to explain expenses. Only give the details you feel comfortable sharing and that you think paints a picture of the situation and how this assistance can help you move forward. Please click here for an example of a financial statement.
If you are currently receiving financial aid from another source, please provide the name of that grant program, scholarship or institution. Be sure to include the start and end dates of those funds, as well as the amount of aid being provided. Finally, please note whether you would be able to participate in the internship even if financial assistance was not offered.
International students applying for financial assistance: It is the applicant's responsibility to ensure that they have the proper Visa to allow them to receive financial assistance, and we strongly recommend communicating with your nearest US consulate as early as possible to ensure your eligibility and clarify requirements. 
Application Deadlines
If you are NOT seeking financial assistance in order to intern with us, applications are accepted on a rolling basis and available spots may fill up but preference is given to applications received by the following dates: 
 Fall internship: July 1
Winter internship: October 1
Spring internship: January 1
Summer internship: March 1
If you ARE seeking financial assistance, please submit your application materials by the following dates:
Fall internship: June 1
Winter internship: September 1
Spring internship: December 1 
Summer internship: February 1