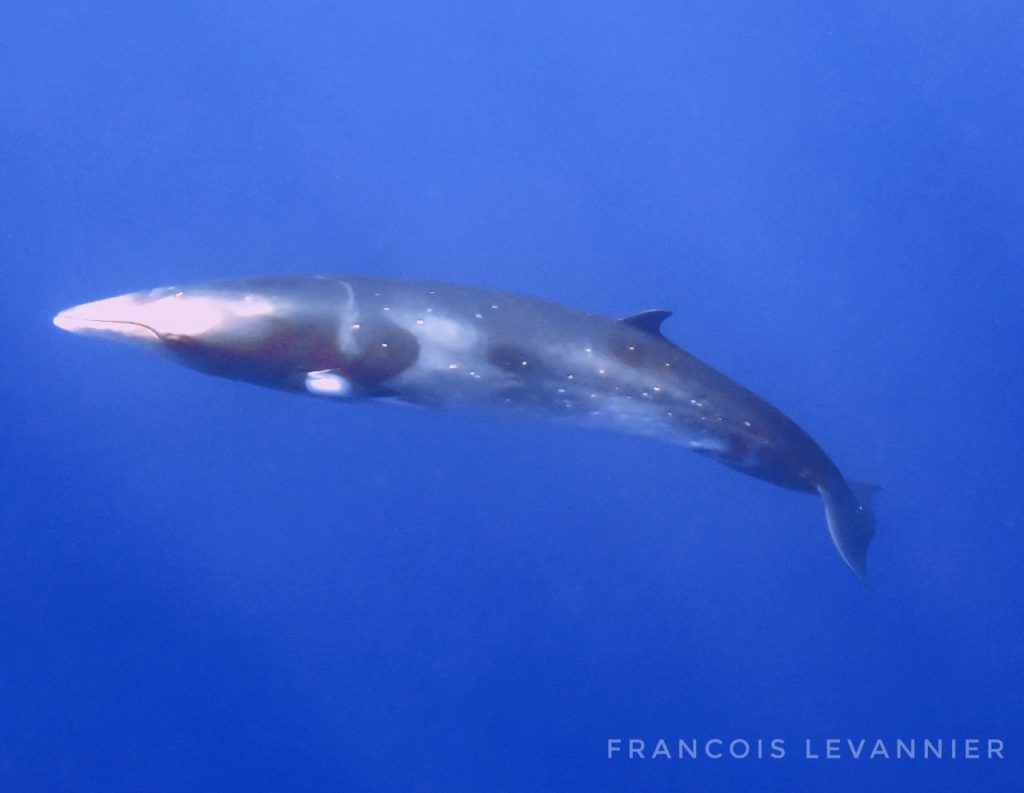 Encounters with common minke whales in Hawaiian waters are quite rare, in part due to their inconspicuous nature. They've been seen a handful of times in the main Hawaiian Islands but have also been documented in the Northwestern Hawaiian Islands and far offshore during NMFS large vessel surveys and by fishermen. Despite this, acoustic detections tell us that they spend much more time in Hawaiʻi than we can tell through visual surveys. They've been detected throughout the entire main Hawaiian Islands as early as October and as late as May, with the number of detections peaking from January through March. It is believed that minke whales have a seasonal presence in Hawaiʻi for reproductive purposes (breeding and calving) similar to other baleen whales, such as humpback whales. Although there haven't been any sightings of calves or breeding behavior to prove this, minke whales make a unique "boing" call that is suggested to be produced by males engaged in courtship and reproductive behavior similar to other baleen whale species. We have not yet encountered minke whales in our field efforts, but are compiling photos obtained by others – if you have photographs of minke whales from Hawaiian waters please contact us!
In our recent publication on delineating Biologically Important Areas for cetaceans in Hawaiʻi, we designated a "watch list area" for minke whales to recognize that Hawaiian waters are likely important for minke whales for reproductive purposes, but acknowledge that further research and data are needed to better describe what areas in Hawaiʻi are most important for them. You can read more about that work here.
All photos are copyrighted and should not be used without permission.
Updated May 2023. 
Return to the Hawaiian Dolphin and Whale Species Page
Got photos? We have photo-ID catalogs for several Hawaiian cetacean species! If you have photos that you would be willing to share, you can learn how to submit those to us at this link, or contact us at Hawaii@cascadiaresearch.org