Since it's inception Cascadia Research biologists working in the field have taken photos of killer whales when encountered and contributed them to a variety of research projects being undertaken along the west coast of North America. Starting in 2003 Cascadia began a variety of research efforts focused on killer whales, most in collaboration with the Northwest Fisheries Science Center of NOAA Fisheries and a continuation of long-term studies of killer whales being undertaken by Robin Baird. Recent projects have focused on studying the underwater acoustics and behavior of Southern Resident killer whales using DTAGs, diving behavior of mammal-eating killer whales, movement patterns of mammal-eating killer whales, and a study of diet and behavioral cues of predation in fish-eating killer whales. This latter project was begun in 2002 in collaboration with Dr. Brad Hanson of the Northwest Fisheries Science Center and has involved collecting fecal samples (for genetic analysis of diet) and prey remains left behind foraging whales. As part of the effort to examine diet and underwater behavior, with Greg Marshall and Dr. Mike Heithaus of the National Geographic Television Remote Imaging Program a Crittercam was deployed on a fish-eating "southern resident" killer whale (K25) in 2002, obtaining the first underwater video footage collected from a killer whale. Unfortunately the whale was not foraging while the camera was attached, but the video footage obtained did demonstrate that this technique should be useful to examine underwater feeding.
Publications
Books, book chapters and popular articles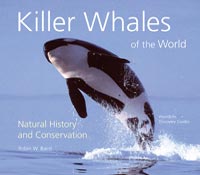 Killer whales of the world: natural history and conservation.
Book by R.W. Baird published jointly by
Colin Baxter Photography
in Europe and
Voyageur Press
in North America in 2002, and reprinted as a softcover by Voyageur Press in 2006. This book is no longer in print, but the 2002 UK version is available here as a
pdf to download
.
Predators, prey, and play: killer whales and other marine mammals. An article by R.W. Baird published in Whalewatcher in 2011. Download PDF copy
Peer-reviewed publications
Reports, conference presentations, and a few other things