Updates on dead whale seen spotted off Vashon on 18 April 2016 (in chronological order see bottom for latest)
This whale was first reported on 18 April 2016 floating dead off the W side of Vashon Island. It is one of several gray whales in Puget Sound currently including another smaller animal sighted the same day in S Puget Sound (near Eld Inlet) and a small group of regularly returning gray whales that feed each spring around N Puget Sound. Based on markings on the whale that let us identify and track individual gray whales, we have determined that this is the same whale that was seen in the Ballard Locks on 6 April 2016. This animal had also been resighted off Nisqually Delta in S Puget Sound on 30 March. We have not yet determined for certain if it is the same whale that was seen in the Foss Waterway on 7 April or seen in that area on several subsequent days. The whale is small so represents a juvenile animal and appears extremely emaciated (thin) likely representing it has had some problems for a long period going back to last year since these whales typically survive and extended winter period of fasting.
Cascadia Research is working with other members of the Northwest Marine Mammal Stranding Network including WDFW to conduct an examination of this whale. As of 1300 on 19 April the whale is under tow with the help of Citizens for a Healthy Bay and on route to a secure location in S Puget Sound where a more detailed exam can be conducted on Wednesday and Thursday. This site will be updated as we have more information.
Photos below show the whale being prepared and under tow. Photo credit Jessie Huggins, Cascadia Research.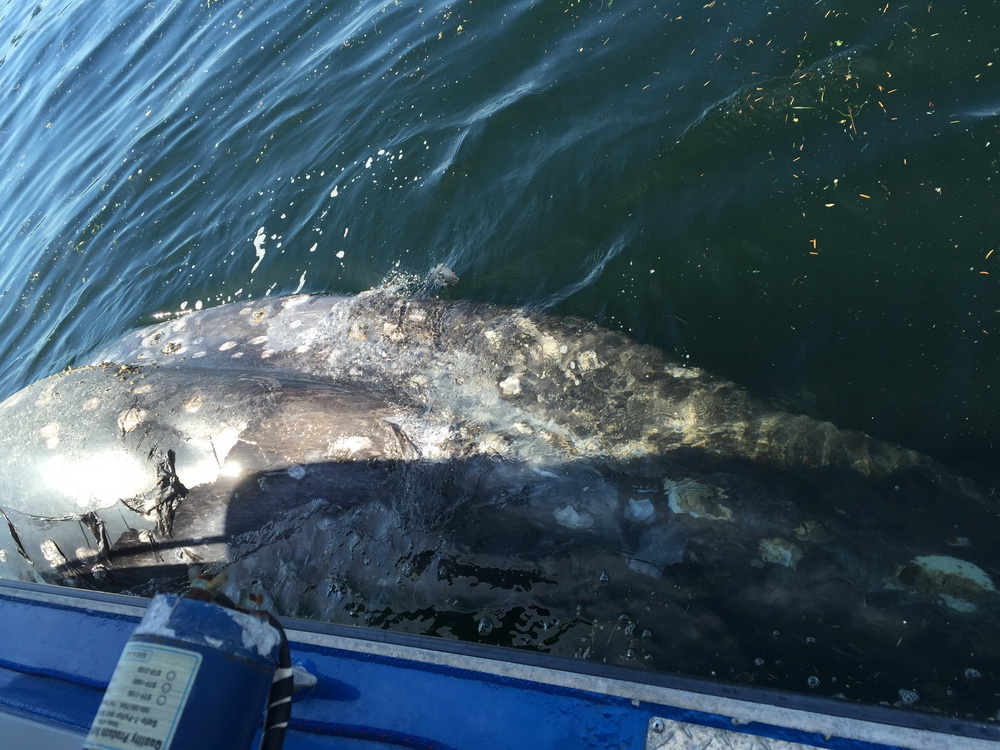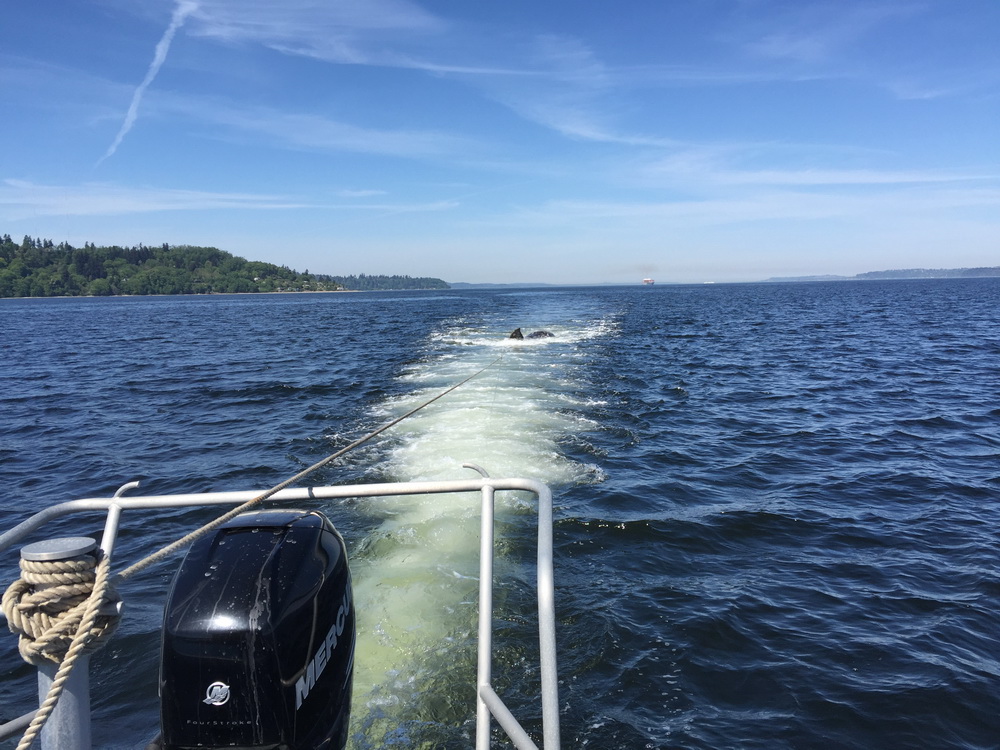 19 April 2016 1700
Tow is almost completed and has gone well being conducted by Citizens for a Healthy Bay (with CRC Stranding Coordinator, Jessie Huggins on board) and now escorted by biologists with WDFW. Necropsy is now scheduled for tomorrow (20 April), check here for updates on results by late in the day. Photo below by Dyanna Lambourn (WDFW) of the two underway.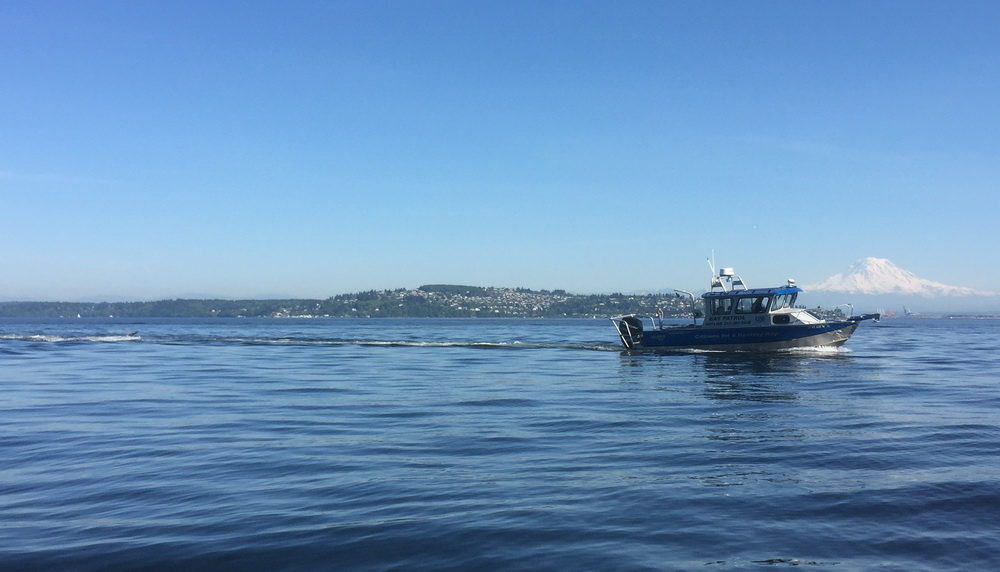 19 April 2016 1900
Tow is completed and whale now at exam site and secured awaiting low tide tomorrow for exam by Cascadia, WDFW, and other stranding network members. Photo of Dyanna Lambourn (WDFW) securing whale to shore (photo Jessie Huggins, Cascadia Research).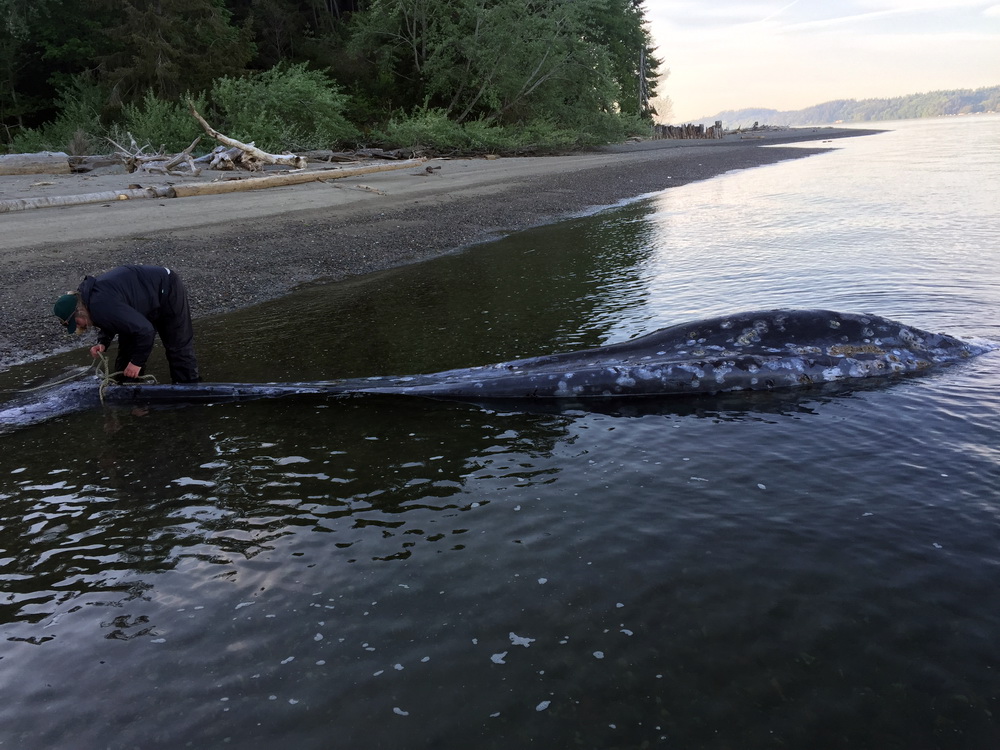 20 April 2016 2100
Necropsy was successfully completed today. The fist accurate measurements made of this animal showed it to be just under 29 feet long male. This would make it a likely yearling born about 15 months ago. The exam confirmed the very emaciated appearance of this animal with little oil in the blubber layer, though not as extreme as some we have seen. The stomach and intestines were generally empty although there was some sand and liquid and at least some human debris including a zip tie. Nothing that was found or seen suggested a strong alternate or contributing cause of death or to the emaciated condition. Tissues were in very good condition suggesting the animal had died fairly recently, likely just a day or two before it was discovered. These tissues will be tested and examined in coming weeks and months to see if they reveal any additional findings. Photos below show different stages of examination (all should be credited to Cascadia Research).