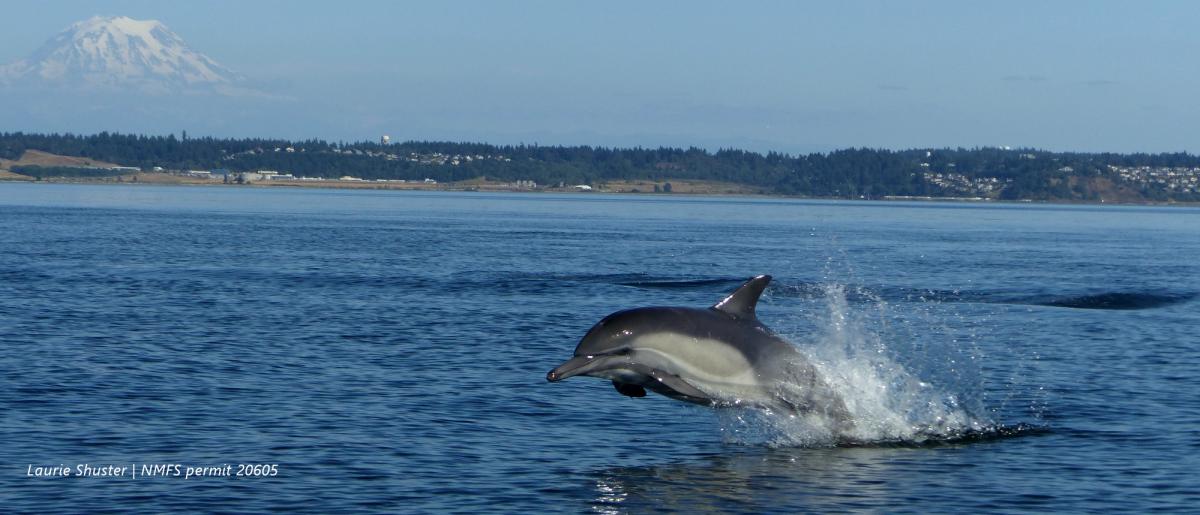 In the late 20th century, the only small cetaceans you were likely to see in the Puget Sound were Dall's porpoise. Harbor porpoise returned to the Puget Sound around 2000, and sightings of several dolphin species have been increasing since 2010. Sightings of common dolphins and bottlenose dolphins have increased considerably since 2016 and Pacific white-sided dolphins are seen from time to time.    
A few species of animals can look a lot like a dolphin, especially from a distance. We have created this short video to help people identify which species they are seeing. It combines information about distinguishing features and video clips of six marine mammal species including harbor porpoise, common dolphins, bottlenose dolphins, Dall's porpoise, Pacific white-sided dolphins, and killer whales. Many of these species, except for the harbor porpoise, are not commonly sighted in Puget Sound.
If you see unusual marine mammal species, please contact Cascadia Research. We are interested in tracking the presence, behavior, and condition of these animals. Pictures and videos are appreciated, especially if they are in focus and have enough detail to identify the species or to see marks or nicks on the animal's fins or bodies. These can help identify individual animals and to monitor their overall body condition. Email reports of sightings to David Anderson danderson@cascadiaresearch.org or call Cascadia's office at 360-943-7325.
Remember that dolphins are protected by the Marine Mammal Protection Act. The National Oceanic and Atmospheric Administration (NOAA) recommends that boaters and paddlers maintain at least 50 yards away from dolphins and at least 300 – 400 yards away from killer whales to give them room to feed, travel, and stay together.