Information release prepared by Cascadia Research. For more information contact Robin W. Baird at rwbaird (at) cascadiaresearch.org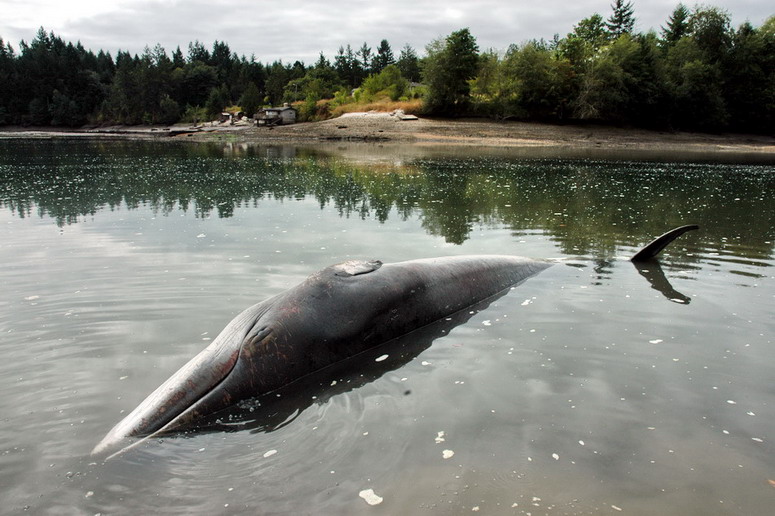 Cascadia Research received a report on the afternoon of August 23, 2006 of a live stranded whale in Little Skookum Inlet, in the south end of Puget Sound, near Shelton, Washington. Local residents had seen the whale swimming in the inlet all morning, and shortly after noon the whale appeared to deliberately beach itself on a shell-covered mud bank. A team from Cascadia Research was immediately dispatched, but the whale, identified as a minke whale, had died before they arrived on the scene. As the tide was rising rapidly and the animal was being covered, individuals on the scene secured it, and a thorough examination was scheduled for August 24th at low tide.
Biologists from Cascadia Research and the Washington Department of Fish and Wildlife conducted the necropsy on August 24, 2006 during low tide when the animal was exposed. All participants are members of the Northwest Marine Mammal Stranding Network authorized by the National Marine Fisheries Service to respond to stranded marine mammals.
The stranded minke whale was a 6.92 m (22'8") sub-adult female. The animal was in fair physical condition and appeared to have been feeding within the last week, although likely not within the last couple of days. Apart from injuries sustained during the stranding, there were no external signs of trauma. Based on the internal examination of the lungs, during the stranding the whale had been lying on its side and had inhaled debris from the beach, which may have resulted in death. A variety of tissue samples collected at the necropsy will be tested in the coming weeks to try to determine why the whale stranded.
Minke whales are the smallest species of baleen whale in the North Pacific. While they are generally thought to be migratory, like other species of baleen whales, they are found year-round off California and there are some sightings and strandings of this species in the Pacific Northwest throughout the year. Though minke whales are regularly seen around the San Juan Islands in Washington state, they are rarely found in southern Puget Sound. There have been 14 previous strandings of minke whales recorded in Washington state (since 1930), but only three other minke whale strandings in Puget Sound over the last 20 years; the most recent in Totten Inlet in 1990, very close to the current stranding. Several sightings of a lone whale from the southern Sound in the last 10 days were likely this individual. Minke whales are not listed as endangered, but little is known about the overall population status. Recent population estimates for minke whales off California, Oregon and Washington by the National Marine Fisheries Service suggest there are approximately 1,000 animals in that area.