Examination of dead gray whale in Longbranch, Washington reveals malnutrition and previous killer whale attack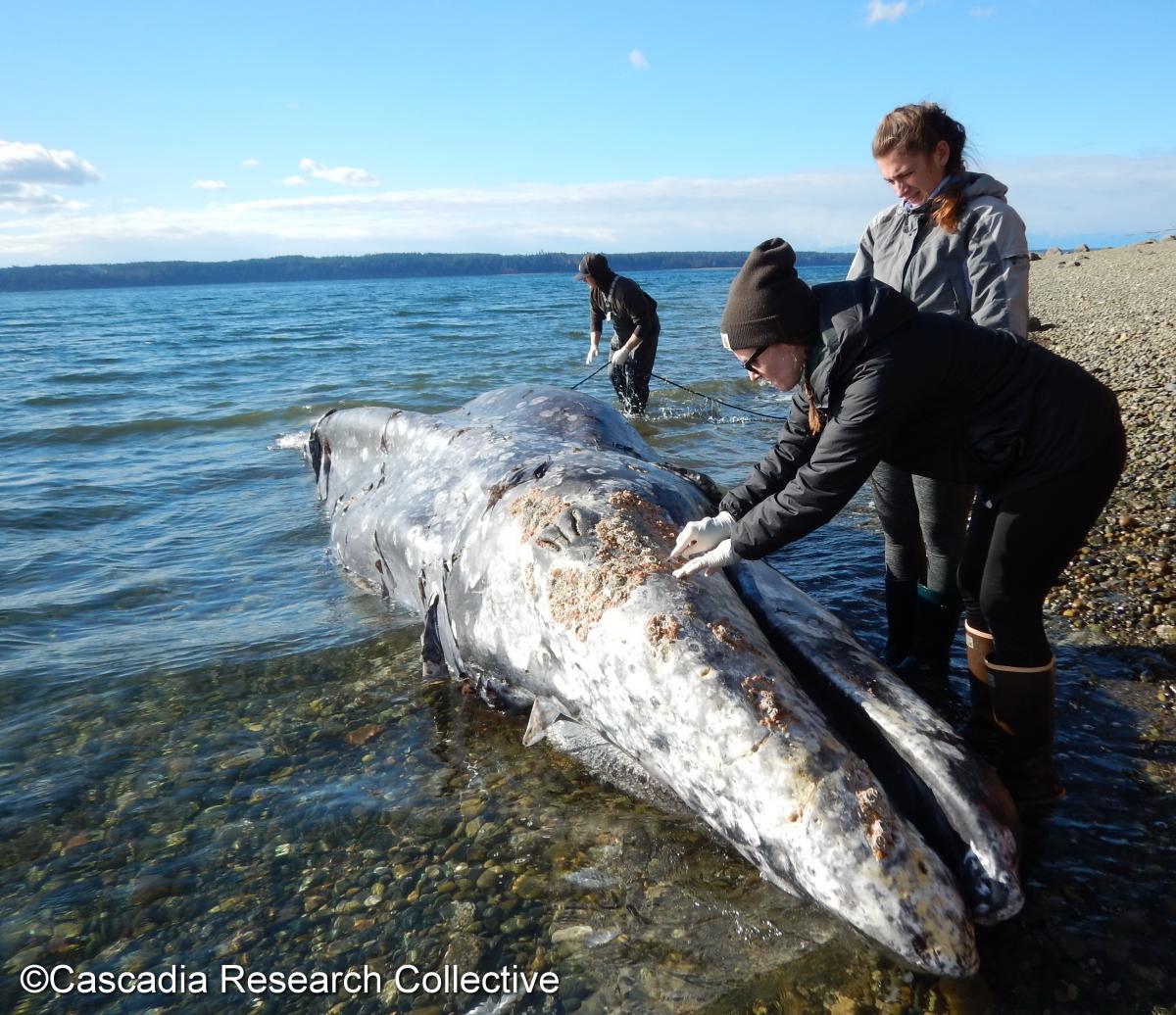 An examination of a dead whale from southern Puget Sound revealed it had stranded alive but was emaciated and had experienced an attack by killer whales in recent months. On 25 February 2019 a small gray whale that was found dead in Longbranch, WA was examined by Cascadia Research, Washington Department of Fish and Wildlife and World Vets, with assistance from Seattle Pacific University and the MaST Center. The 8.6m (28.5 ft) female, approximately 1-2 years old, was initially found on 23 February. This whale is confirmed via photographs provided to Orca Network to be the same whale sighted live in Hale Passage (Gig Harbor) on 18 February in Budd Inlet (Olympia) on 21 February. The whale was in good post-mortem condition and the examination revealed extremely poor body condition, with externally visible vertebral column and ribcage, dry fibrous blubber, and a stomach full of seaweed and woody debris but no food remains. There was evidence of an attack by killer whales, which likely occurred within the last few months, leaving rake marks (scars produced by killer whale teeth) at various locations on the body and missing tips of flukes and pectoral fins. Approximately 1/3 of each side of the fluke had extensive damage and subsequent tissue necrosis, attributed to the killer whale related injuries.
Samples were collected for a variety of analyses that will be undertaken in the upcoming weeks and months and will contribute to ongoing studies of biotoxins, genetics, and contaminants. This whale also provided a unique opportunity to test techniques used to free live entangled whales (SR3 and NOAA). Recovery of the skeleton is being coordinated by the MaST Center and Seattle Pacific University (SPU), for eventual rearticulation and educational display at SPU.
Although the stranding of young, emaciated gray whales in the spring in Washington State is common, this is earlier than typical. There have also been recent unusual earlier sightings of gray whales in our region. These include the overwintering of 2-3 gray whales in Puget Sound and the early arrival of one of the "Sounders", a group of whales that annually return to the northern Puget Sound in the spring to feed around Whidbey Island.