Examination of dead gray whale found in the Elliot Bay revealed signs of nutritional stress (April 15, 2019)

An examination of a dead gray whale originally reported floating in Elliot Bay revealed evidence of malnutrition. On 15 April 2019 an adult gray whale was examined by Cascadia Research, Washington Department of Fish and Wildlife, World Vets and SR3. The 11.85m (approx. 39 ft) male was initially seen floating near the Coast Guard station in Elliot Bay on the morning of 14 April and was towed to a necropsy location by Department of Fish and Wildlife Enforcement the following morning. The whale was in moderate post-mortem condition and the examination revealed poor body condition, with dry fibrous blubber and a small amount of woody debris in the stomach but no food remains. There was evidence of a past killer whale encounter, but these injuries were fully healed and appeared to have happened quite some time ago. There were no signs of recent entanglement or ship strike.
Samples were collected for a variety of analyses that will be undertaking in the coming weeks and months and will contribute to ongoing studies of biotoxins, contaminants, and genetics. Identification photos of this whale will be also be compared to Cascadia's long-term gray whale photo ID catalog to determine sighting history.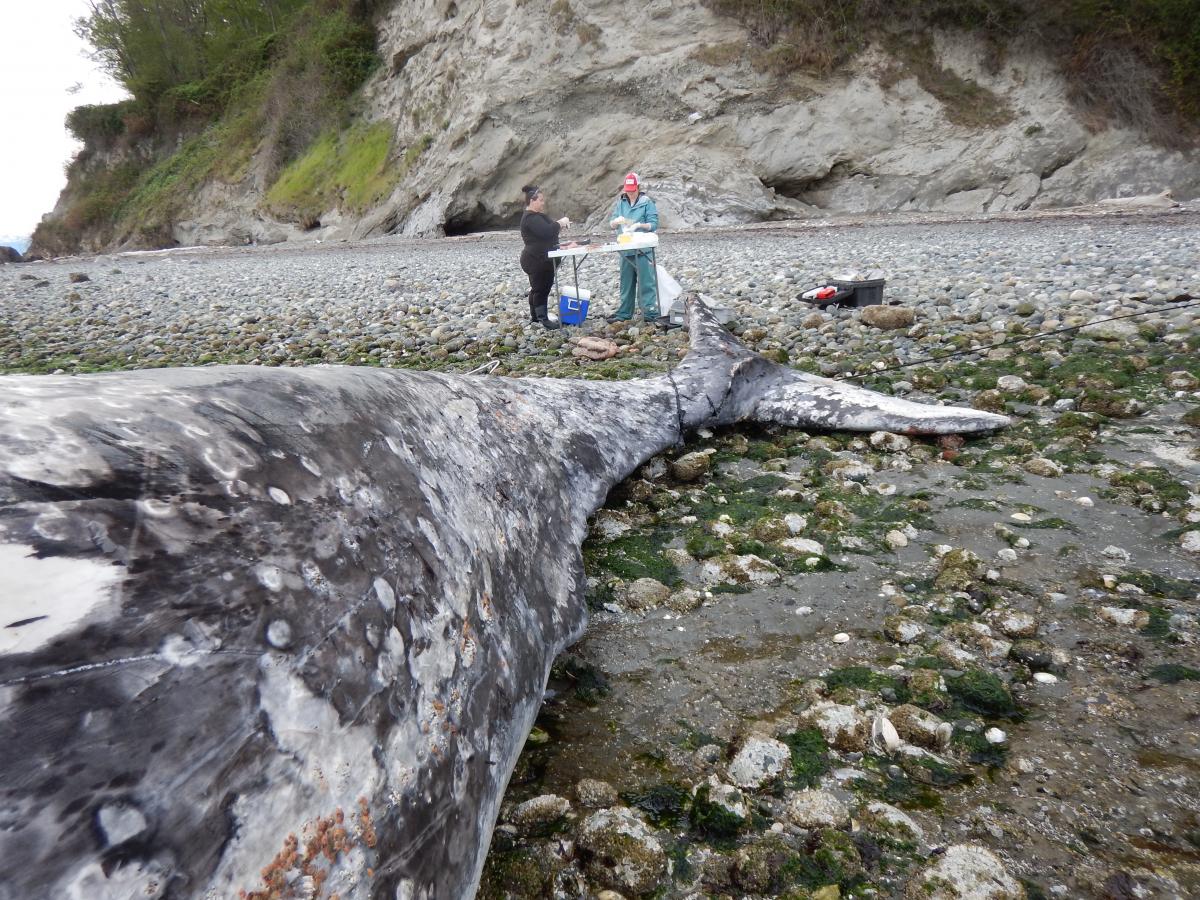 This is the 7th stranded gray whale in Washington state so far this year. We are already close to our annual average even though we are still very early in our typical gray whale stranding season, which generally occurs from April through June. This is suggesting that 2019 will be a second year in a row of above normal number of strandings. Only three of these whales have been in good enough condition for examination, and all three showed signs of malnutrition. There have also been other indications the overall gray whale population may be facing some nutritional challenges in 2018 and 2019, though this has been seen previously including in a major mortality event in 1999 and 2000 when strandings were even higher that we are currently seeing.