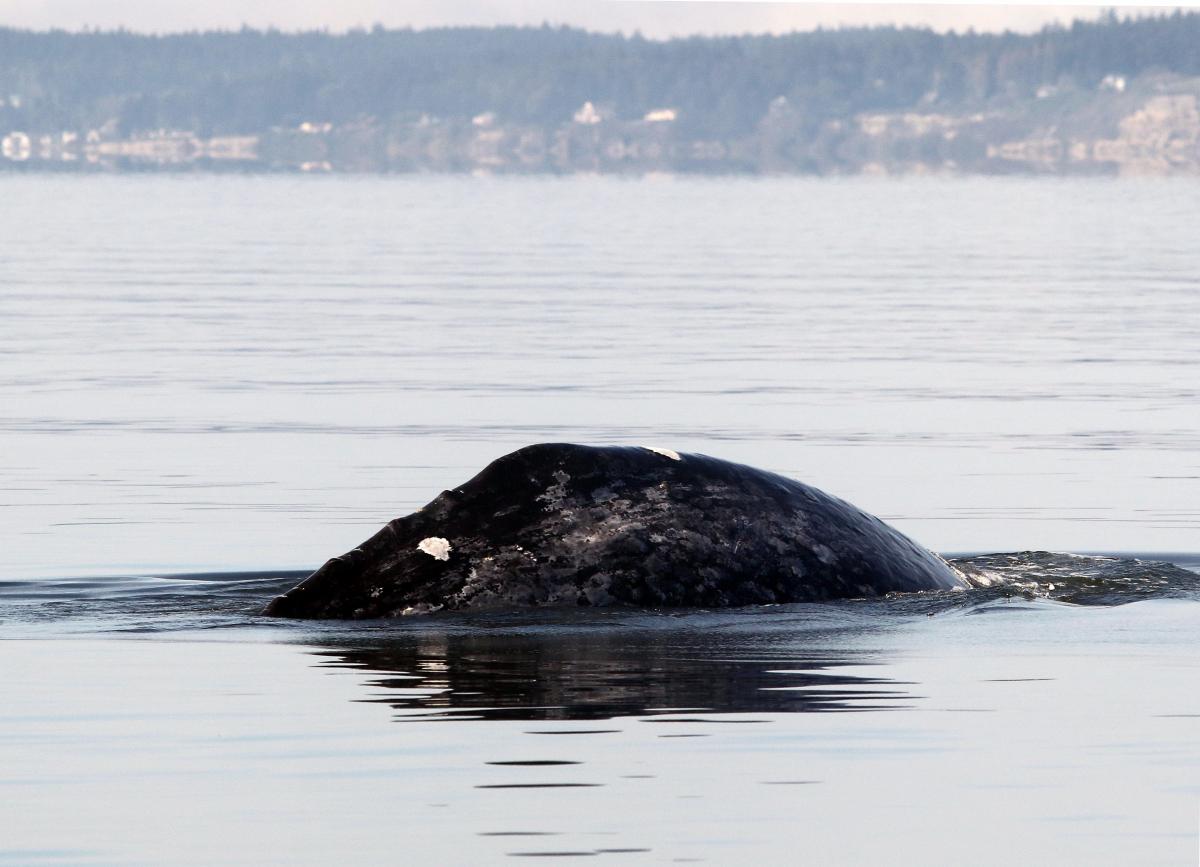 Above is an ID photo of CRC-723 which is also the same whale on the left hand side of the two aerial photos (notice the two white spots on the right flank). Photo taken by John Calambokidis. Research conducted under NMFS permit 21678.
All regular 11 "Sounder" gray whales have now been documented having returned to Northern Puget Sound as of 19 March 2020. The final animals were documented during a survey on 19 March conducted by Cascadia Research in collaboration with SR3 (Sealife Response, Rehabilitation, and Research) and Southall Environmental Associates, Inc. documenting not only the individuals present, but also examining their health condition.
While five individuals were first confirmed on 26 February, it was not until 19 March that the additional five were confirmed against the Cascadia photo-identification catalog. Additionally, another individual, not identified previously in this region and not considered a 'Sounder", was also photographed that day. In addition to identifying the last of the Sounders, the effort on 19 March also used non-invasive research drones to collect high resolution aerial images to enable precise measurements of the length and body condition of six animals and collected samples from the blow (exhalation) to evaluate respiratory health. Small skin and blubber biopsy samples were also collected to extend the health monitoring. This health study will continue until June to examine how gray whales are doing in 2020 after high number of strandings in 2019 (34 in Washington State alone) which resulted in NOAA declaring an Unusual Mortality Event (UME). This study will also allow determination of how this group of about a dozen gray whales, many of which have returned almost every spring for up to 30 years, are benefiting from their stopover feeding in Puget Sound.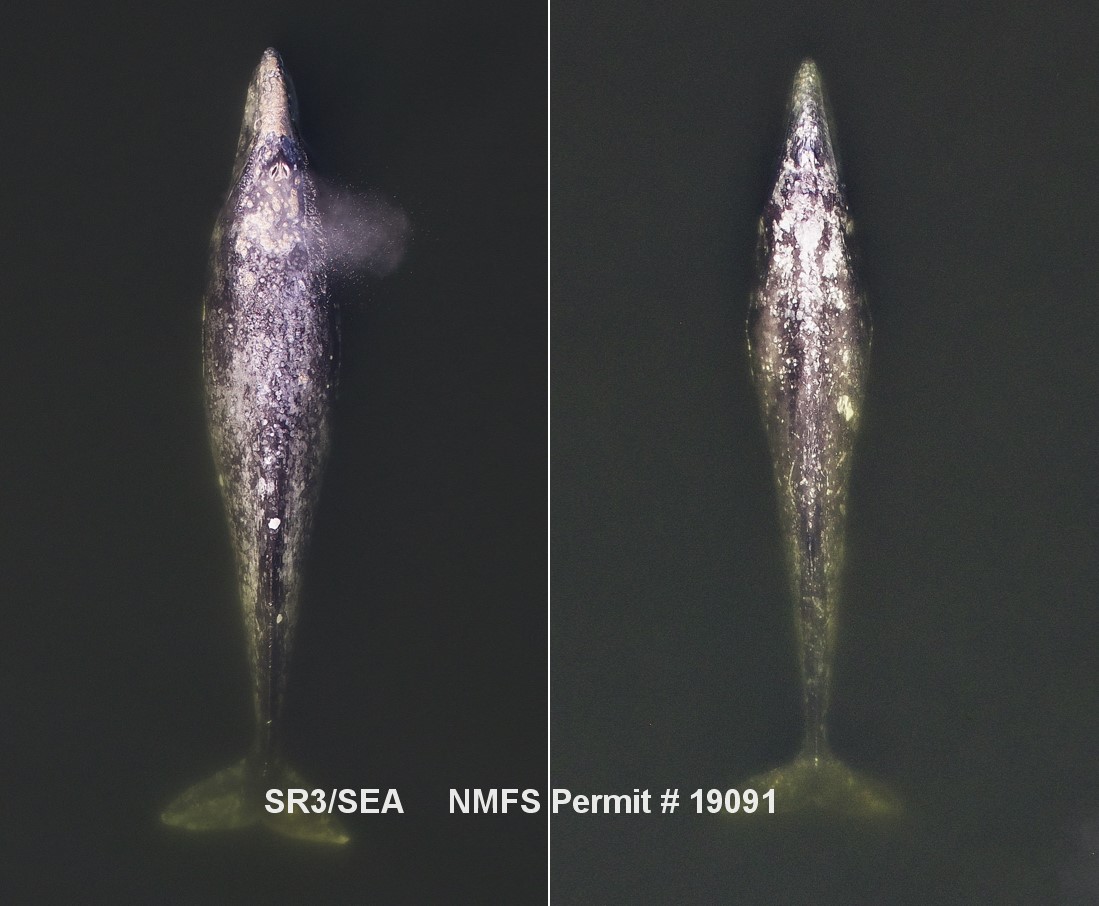 Aerial images taken on March 19th 2020, displaying two whales in contrasting body condition. On the right is the new whale first seen this year, who is lean with the shape of the rib cage, cranium showing beneath the skin. In contrast the whale on the left (CRC-723, Lucyfer) is relatively robust. Images collected non-invasively using a remotely-controlled hexacopter drone flown at >150ft over the whales under NMFS research permit 19091. Photo by Holly Fearnbach (SR3) and John Durban (SEA).
As mentioned above, part of the days work also involved collecting samples from the blow (exhalation) to evaluate respiratory health. The image below shows the team from SR3/SEA pilot a remotely-controlled hexacopter through the blow of a gray whale on March 19th to non-invasively collect a sample of blow exhalate. These samples will be analyzed to describe respiratory microbiome and hormone levels, to assess the health consequences of changing body condition (as measured from the higher-altitude photogrammetry images, see above).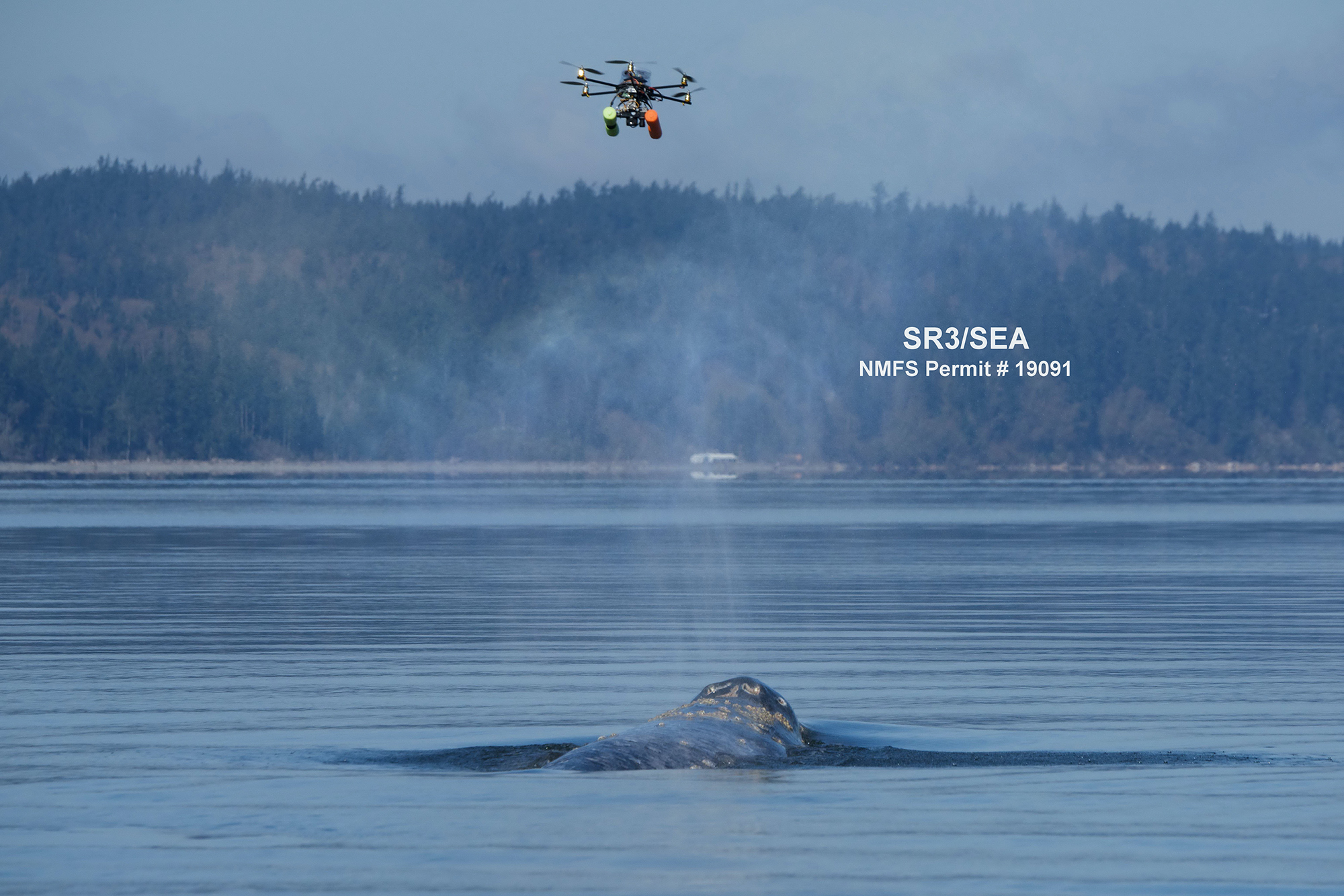 Research authorization by NMFS permit #19091.