We will be undertaking a 7-day field project based out of Kawaihae, Hawai'i Island starting May 31, 2015. This will be our third field effort in Hawai'i this year, and the first time we've ever worked off Hawai'i Island during the month of June (we've previously had June field efforts off Kaua'i and Ni'ihau only, and have worked off Hawai'i Island every other month of the year). Basing out of Kawaihae, rather than our normal operations based out of Honokohau, will allow us to spend most of our time much further north off the island than typical, in an area where we expect to have higher sighting rates of both false killer whales and melon-headed whales. Our primary goals for the field effort are to find and deploy LIMPET satellite tags on both of these species, although like all of our field projects though, we will work with all species of whales and dolphins we encounter.
This project is supported by several sources, including the Hawaii Ocean Project, Pacific Islands Fisheries Science Center, Hawaiian Islands Humpback Whale National Marine Sanctuary, and Dolphin Quest.
The research crew for this project will include Daniel Webster, Annie Douglas and Robin Baird, all from Cascadia, Carmen De Fazio from the Hawaiian Islands Humpback Whale National Marine Sanctuary, Deron Verbeck, Colin Cornforth, as well as a number of volunteers.
If you want some background information on our work in Hawai'i we published a paper on our first 13 years of surveys and a pdf is available here
End of project update
On our last day on the water we encountered a group of false killer whales from the endangered main Hawaiian Islands population. This group is "Cluster 2", the rarest of the three social groups from this population. Our last encounter with Cluster 2 was in August 2011 and only a couple of individuals have been seen since (in May 2013, by a whale watching boat off Maui). Very little is known about this group, other than that almost all sightings are off Hawai'i Island. They are seen very infrequently though, so must spend almost all their time elsewhere, but no one knows where, as they've never been satellite tagged before.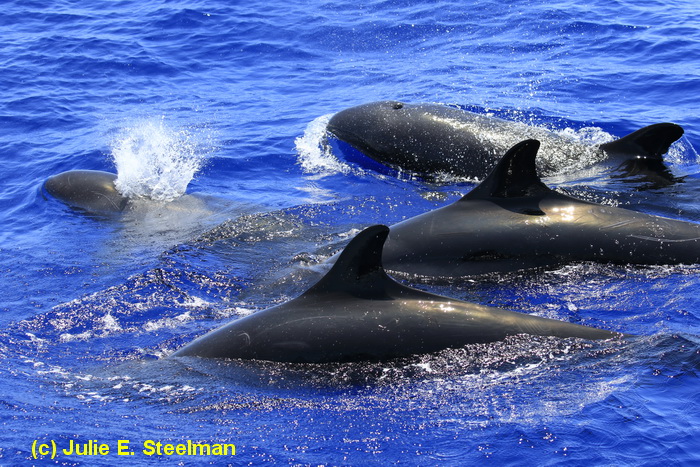 False killer whales from Cluster 2, June 6, 2015. Photo (c) Julie E. Steelman. We were able to satellite tag three individuals from this group, so are looking forward to tracking their movements over the coming weeks (and hopefully months).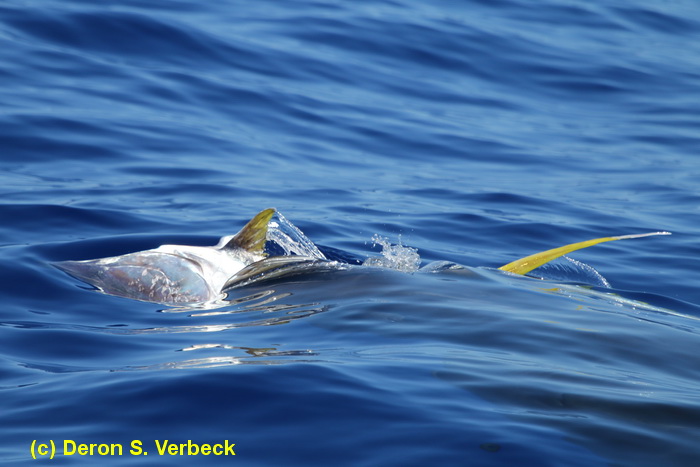 False killer whale with a large ahi (yellowfin tuna) in the mouth. Photo (c) Deron S. Verbeck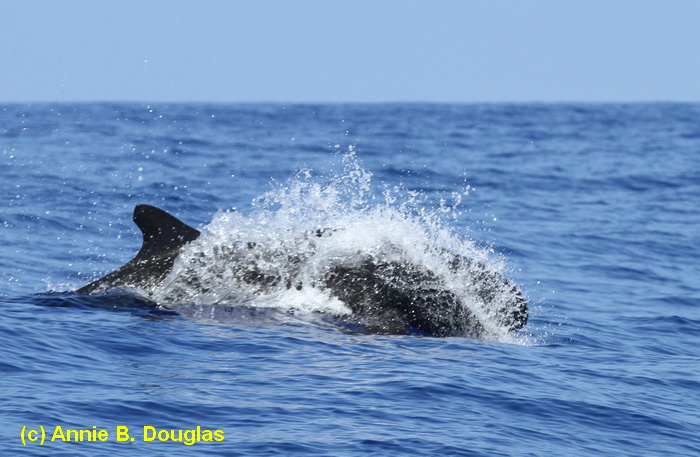 False killer whale high-speed swimming, June 6, 2015. Photo (c) Annie B. Douglas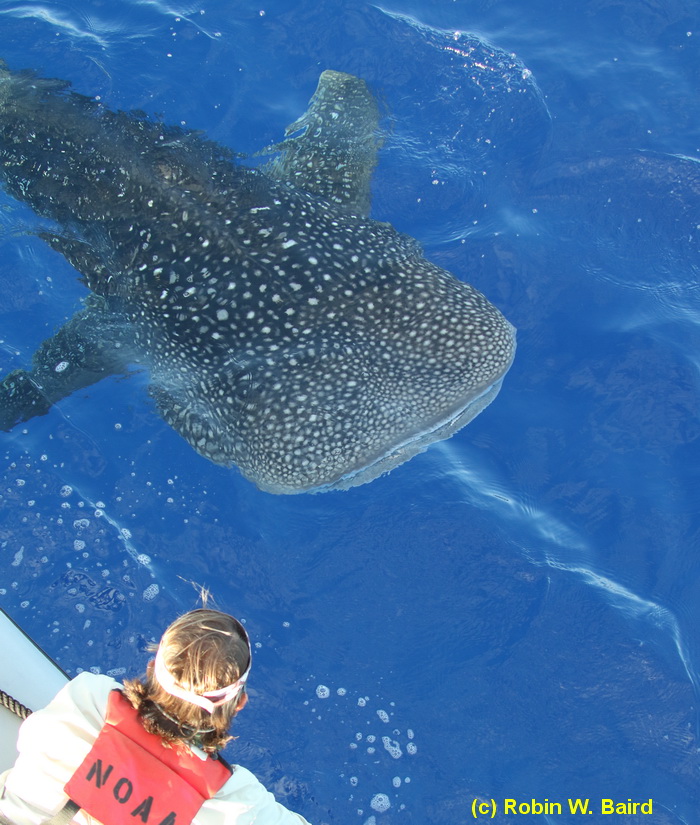 We also encountered a small whale shark, only the fourth whale shark we've seen in Hawai'i. Photo (c) Robin W. Baird
June 3, 2015 update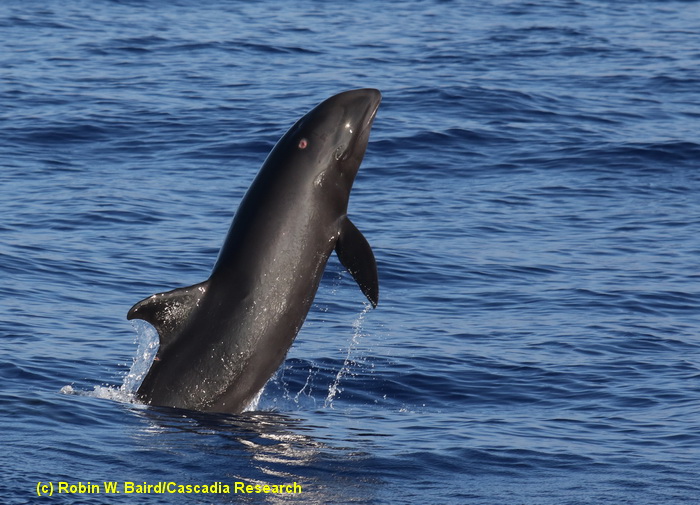 Today we encountered one of our (two) highest priority species for this trip, a group of melon-headed whales from the Kohala Resident population. This population was only officially recognized by NMFS last year – it is a small population (<500 individuals) that appears to be resident to the area off the northwest side of Hawai'i Island, possibly the smallest known range of any population of whale or dolphin in Hawaiian waters. This was our first encounter with Kohala Resident melon-headed whales since May 2013 – we were able to photo-identify perhaps 100 individuals (out of an estimated 175 individuals present), and deployed a satellite tag on one individual to track the movements of the group. Photo (c) Robin W. Baird.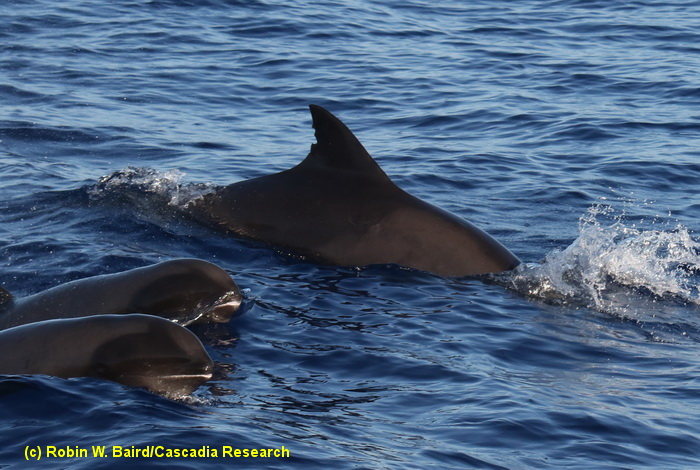 Melon-headed whales can be quite difficult to tell apart from the closely-related pygmy killer whales. This photo clearly shows the dorsal cape as it drops down steeply just in front of the dorsal fin – in pygmy killer whales the dorsal cape does not extend as far down the body and the boundary between the cape and the lighter gray sides is much more distinct. Photo (c) Robin W. Baird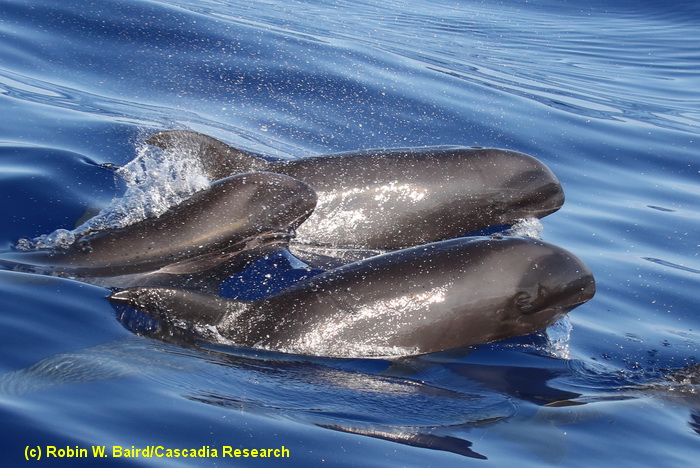 Melon-headed whales also have a distinct facial "mask", while pygmy killer whales have a darker cap on top of the head. Photo (c) Robin W. Baird.
We are hoping to re-locate this group again in the next three days using the information from the satellite tag, to get more photos from the group and hopefully deploy another tag.
June 1, 2015 update
Today was our first full day on the water, and we had seven sightings of three different species of odontocetes. Four of our sightings were of short-finned pilot whales, over 100 individuals seen today, and we were able to obtain ID photos of more than 50 individuals.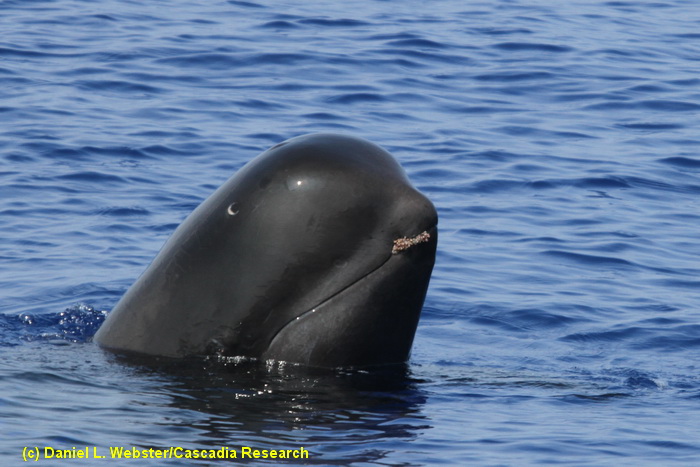 Short-finned pilot whale spyhopping. Photo (c) Daniel L. Webster. This individual has an injury on the upper lip, exposing one or more teeth, and a large number of small stalked barnacles have attached to the teeth.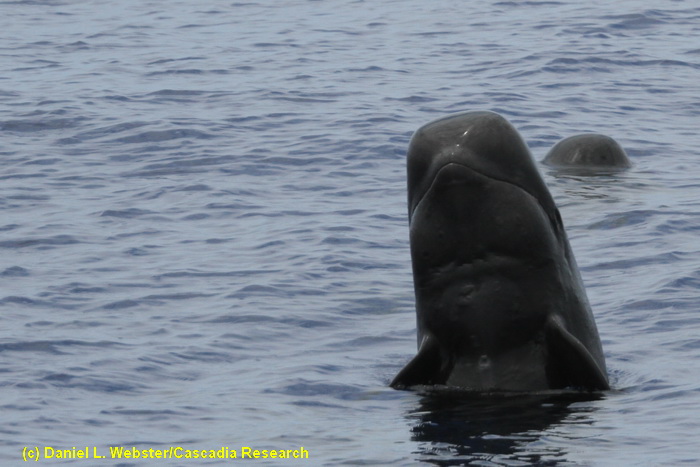 Short-finned pilot whale spyhopping. Photo (c) Daniel L. Webster. We were able to obtain head photos of a number of different pilot whales – we use these photos to look at injury rates on the mouthlines, as a possible indicator of fisheries interactions.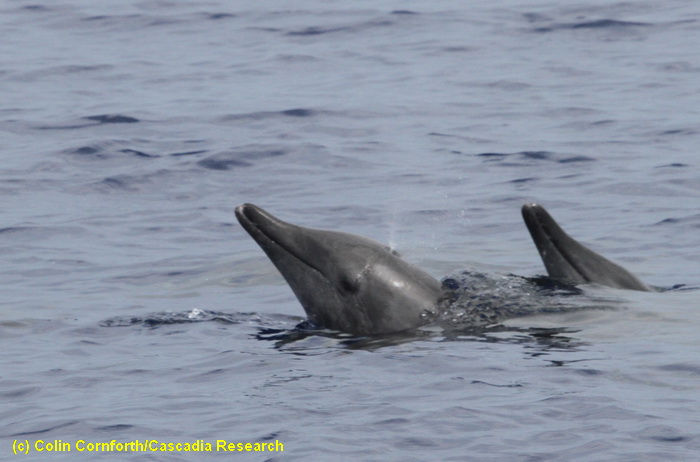 Two rough-toothed dolphins. Photo (c) Colin Cornforth. One group of pilot whales had four rough-toothed dolphins that were associating, and we were able to get good ID photos of all four. This photo shows the characteristic sloping forehead of this species.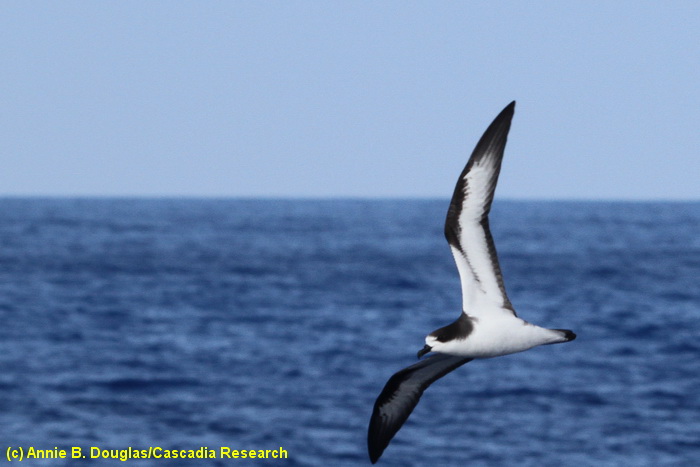 Hawaiian petrel. Photo (c) Annie B. Douglas.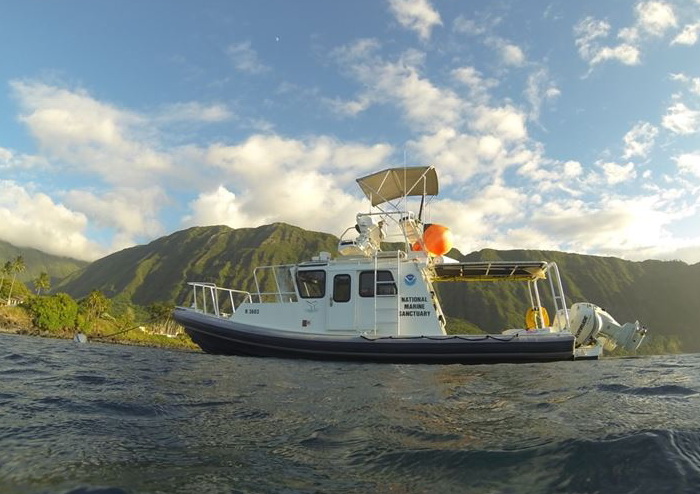 We are partnering with the Hawaiian Islands Humpback Whale National Marine Sanctuary for this project and using their 11.6 m fast response vessel, the M/V Koholā, for the project. Photo courtesy Ed Lyman.
All photos are copyrighted and should not be used without permission (contact Robin Baird at rwbaird (at) cascadiaresearch.org for permission).
Like us on Facebook page if you want to receive notices of when information is posted and updates on other Cascadia projects.