We will be undertaking a 21-day field project off Lāna'i starting March 1, 2017, funded through a grant from the Pacific Islands Fisheries Science Center and a NOAA Species Recovery Grant to the State of Hawai'i. We also thank Pūlama Lāna'i for logistical support. This will be our first field effort off Lāna'i since 2012 (see info from our December 2012 project here) and our sixth year of working off Maui Nui since first working here in 2000. We are based out of Manele Bay for the project, to allow quick access to the deeper water west of Lāna'i. We have a number of goals for our field work, but the primary one is to learn more about false killer whales, through the deployment of LIMPET satellite tags, photo-identification, and collection of biopsy samples for genetics, hormone chemistry and toxicology. We also have funding for tags from a private foundation as well as from Dolphin Quest, and hope to deploy tags on one or more of short-finned pilot whales, bottlenose dolphins, pantropical spotted dolphins, rough-toothed dolphins, or other species we encounter. As usual, we'll be working with all species of odontocetes we encounter, trying to obtain photos for photo-identification catalogs, and we may also collect biopsy samples for studies of genetics, toxicology, and hormone chemistry of other species.
The research crew for this project will include Daniel Webster, Kim Wood, Elle Walters, Colin Cornforth and Robin Baird, all from Cascadia, and a number of volunteers.
If you want some background information on our work in Hawai'i we published a paper on our first 13 years of surveys and a pdf is available here
March 21st end of project update
Today was our last day on the water off Lāna'i. Over the 21 days of the project we covered 2,568 km and encountered 10 species of marine mammals – eight species of odontocetes, humpback whales, and a monk seal. The most frequently encountered species of odontocete were short-finned pilot whales (17 sightings), followed by pantropical spotted dolphins (14), bottlenose dolphins (5), and spinner dolphins (4). We took over 45,000 photos, collected 18 biopsy samples (and one fecal sample), and deployed 11 satellite tags (on four species). Overall it was a very successful project.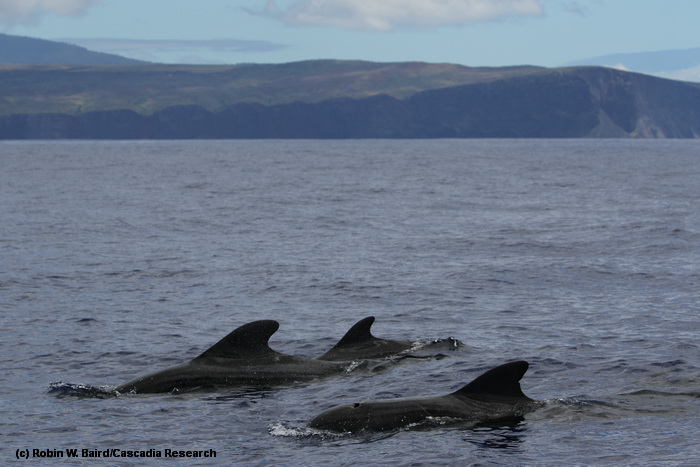 A group of short-finned pilot whales off the southwest coast of Lāna'i. We encountered 17 groups of pilot whales this trip, more sightings than any other species of odontocete, all in the deeper (>600 m) water to the west and southwest of Lāna'i . Photo © Robin W. Baird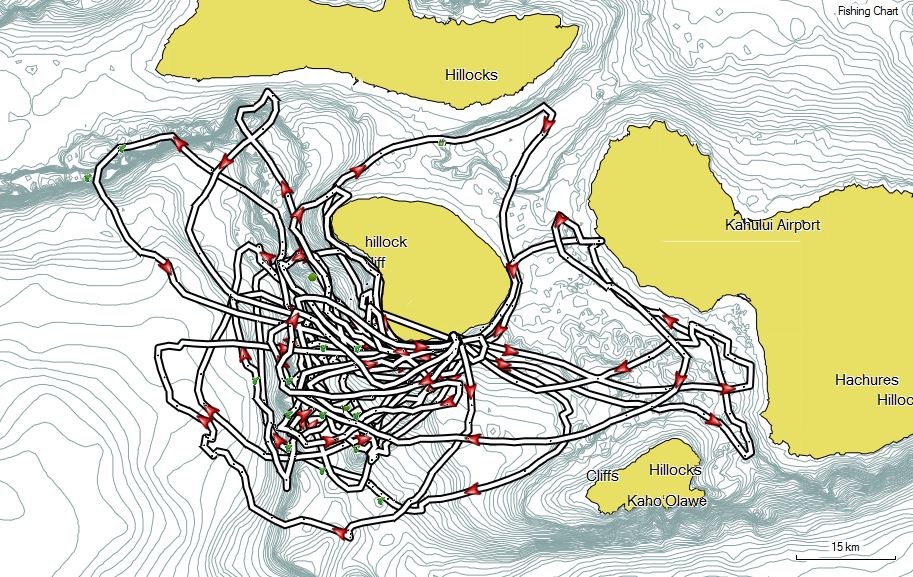 Our search effort over the 21-day field project.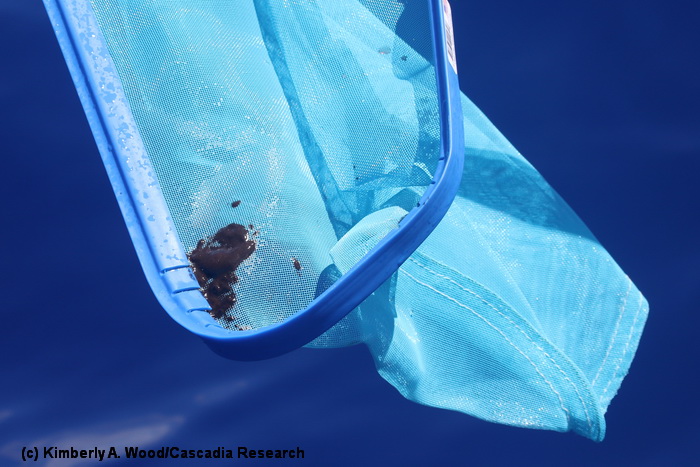 Collecting a fecal sample from a short-finned pilot whale. These samples are collected to examine diet using genetic techniques. Photo © Kimberly A. Wood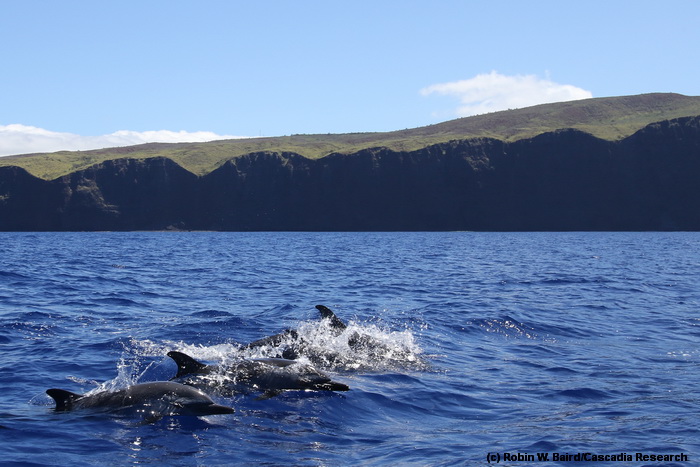 A group of pantropical spotted dolphins off the southwest coast of Lāna'i. Photo © Robin W. Baird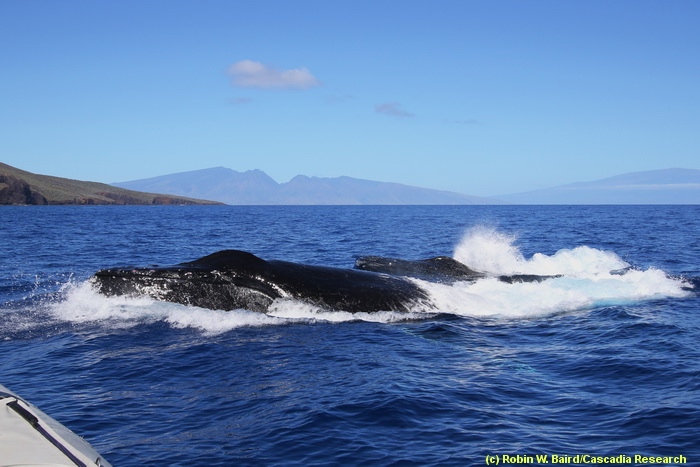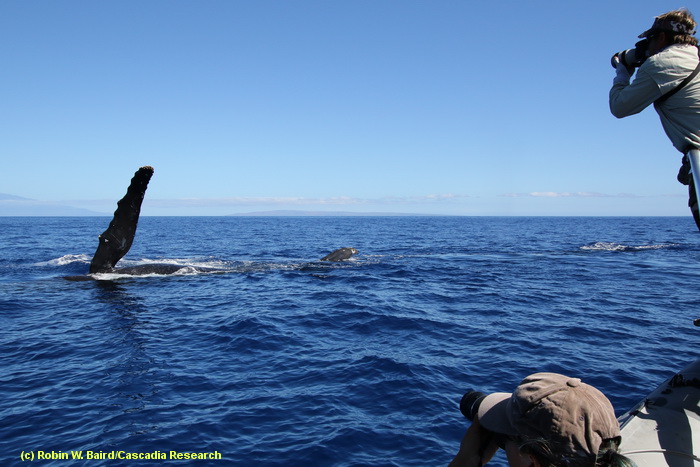 While generally we avoid humpback whales during our surveys, we had a competitive group of four individuals circling right off the harbor at Manele Bay, which were difficult to ignore. Photos © Robin W. Baird
March 16th update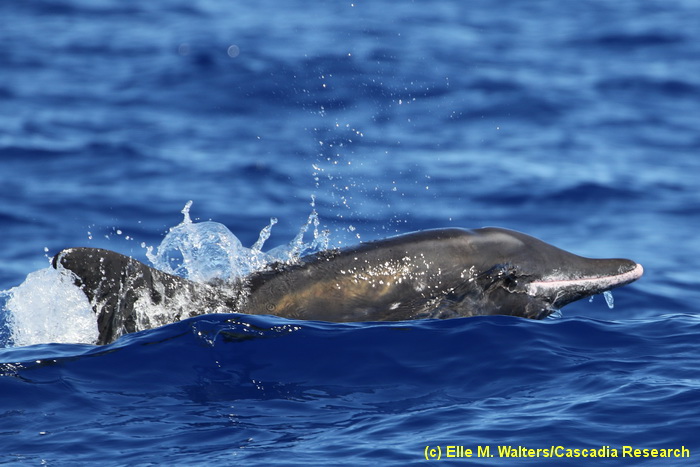 A rough-toothed dolphin off Lāna'i, the 8th species of odontocete we've encountered this trip and only our second encounter with rough-toothed dolphins off Maui Nui. We were able to get identification photos of about a dozen individuals, which we will be comparing to our photo-identification catalog of this species. There are resident populations off Hawai'i Island and Kaua'i/Ni'ihau, so hoping these individuals will match to one of the other islands, giving us a better idea of movements and connectivity among the islands. Photo (c) Elle M. Walters.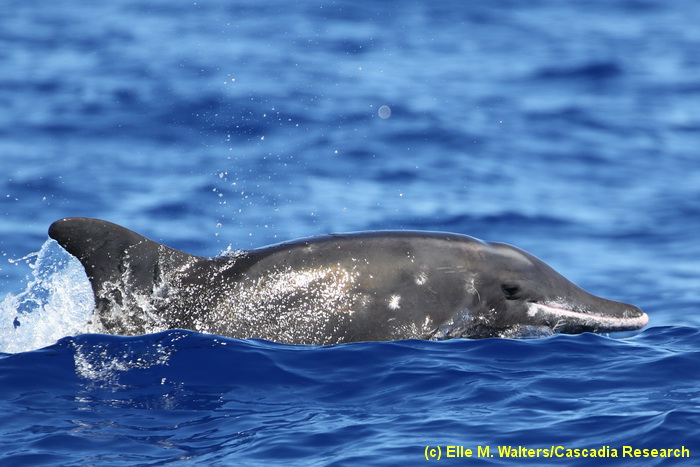 These photos show the long sloping beak characteristic of rough-toothed dolphins. Photo (c) Elle M. Walters.
March 13th update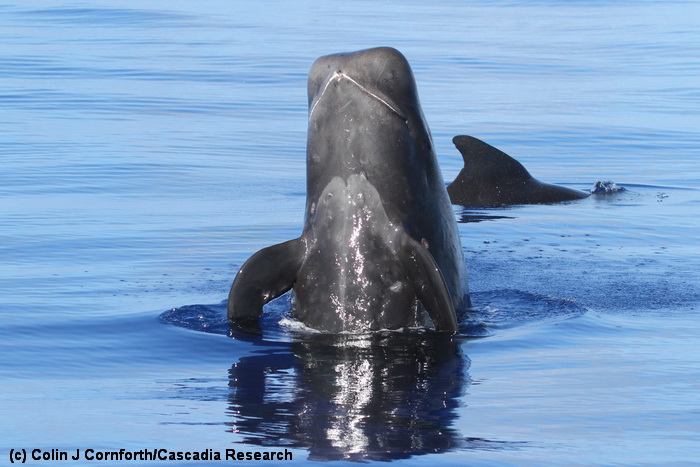 Another productive day on the water. We were able to deploy two Fastloc GPS satellite tags on short-finned pilot whales, as well as obtain both identification photos and a number of photos of spyhopping pilot whales. We use the spyhopping photos to examine mouthline injuries that may be associated with fisheries interactions. This is an adult male, showing the characteristic flattened head. Photo (c) Colin Cornforth.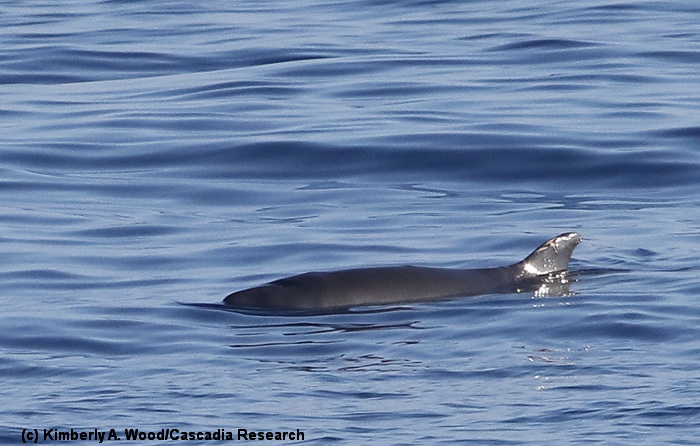 We also encountered our 6th and 7th species of odontocetes for the trip. We had two encounters with dwarf sperm whales, first a pair of individuals, and then a lone individual. These were only the 2nd and 3rd sightings we've had of dwarf sperm whales in the Maui Nui area (our last sighting was in May 2003). Photo (c) Kimberly A. Wood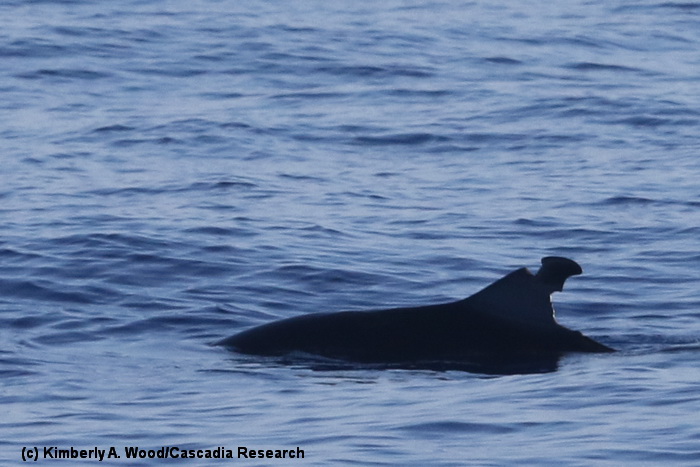 One of the dwarf sperm whales had an extremely distinctive dorsal fin, with several major bite wounds, most likely from cookie-cutter sharks or another shark species. We have a photo-identification catalog of this species and we'll compare this image to the catalog and to any future photos we obtain from the area. Photo (c) Kimberly A. Wood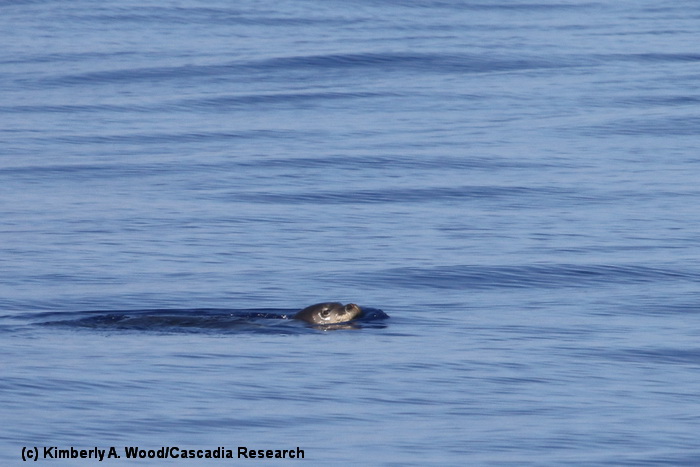 A rare sighting of a Hawaiian monk seal – in our work we've only ever seen monk seals near shore – this seal was ~4 km from shore in about 350 m of water
March 12th update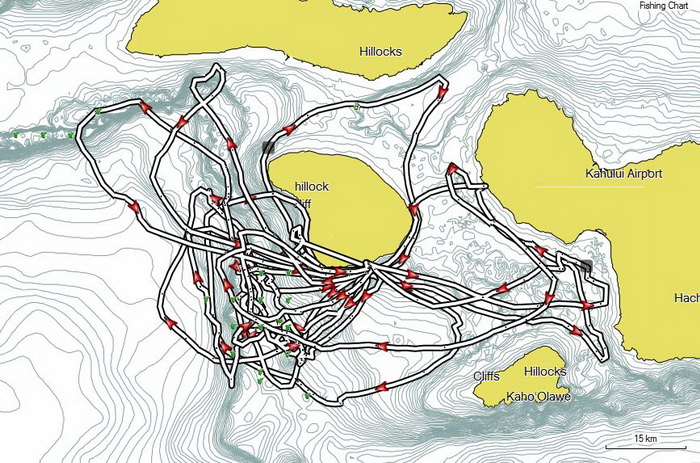 The last three days have been quite productive. On March 10th we encountered a different group of false killer whales (from Cluster 1 of the endangered main Hawaiian Islands population), were able to photo-ID about seven individuals and deploy one satellite tag. We've also encountered three groups of pilot whales and two groups of spotted dolphins, and covered a lot of ground, including a bit of time on the southeast edge of Penguin Bank, an area we've only visited once (briefly, in 2003).
Video footage of false killer whales bowriding from our March 9th encounter.
Remoras can cause a lot of damage to the skin and underlying tissue of a dolphin – this bottlenose dolphin was actively trying to get rid of the remora and the video shows the remora in the act of causing this damage. This is from our March 7th encounter.
March 9th update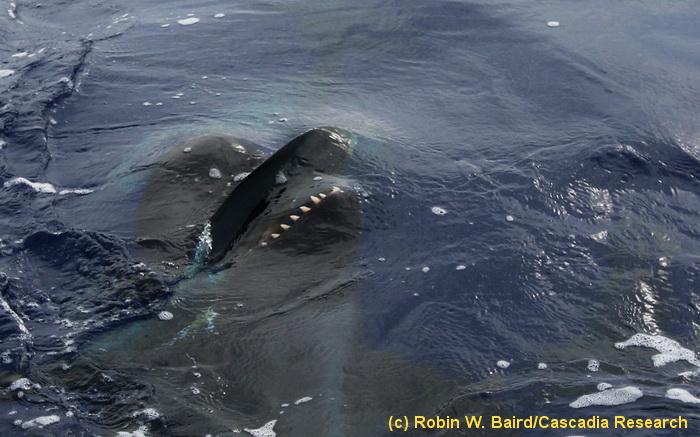 Today was a good day! Our highest priority for the trip was to find false killer whales from "Cluster 4", a rarely seen social group (aka the cluster formerly known as Cluster 1B), and deploy satellite tags to track their movements. Early this morning we encountered Cluster 4, we were able to deploy three satellite tags to track their movements, obtained identification photos of at least 20 individuals, and got to witness them capturing a mahimahi. At one point we had a dozen individuals bowriding and we were able to get some above- and under-water video. More in the series from the predation event below. Photos (c) Robin W. Baird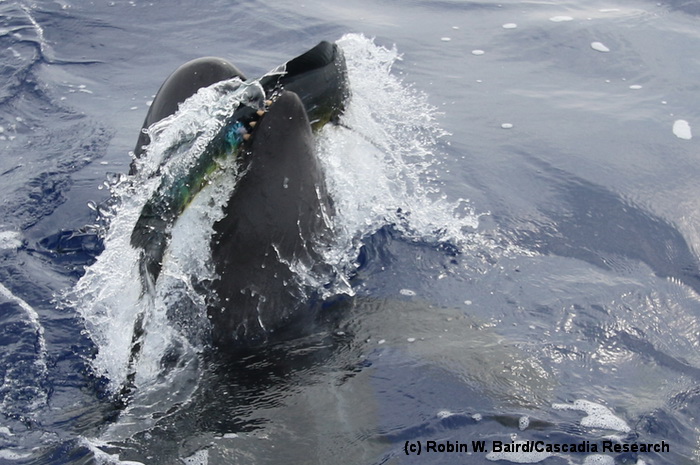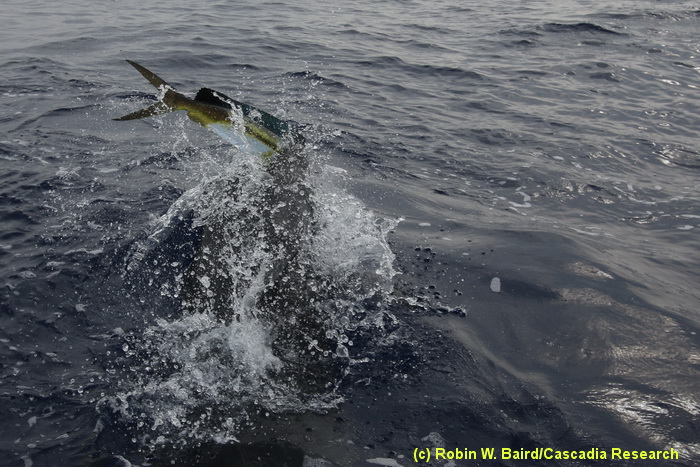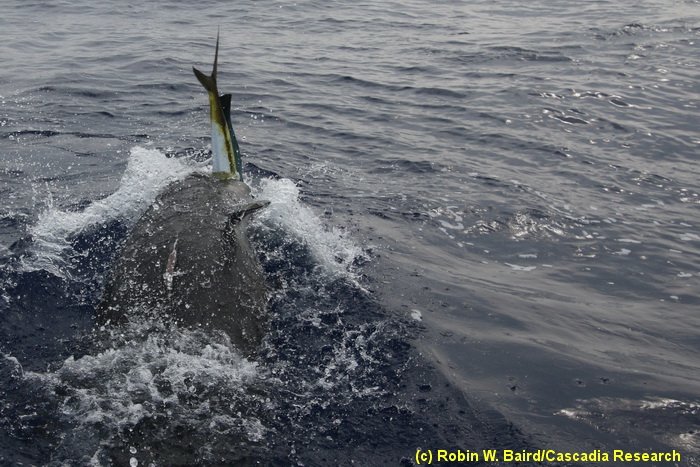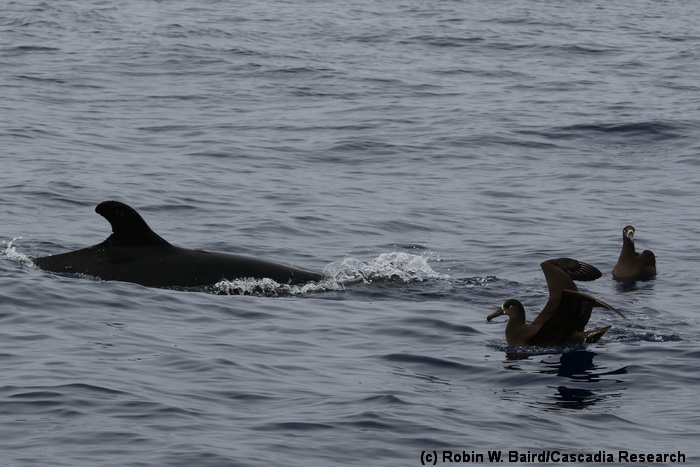 At one point we had four Black-footed Albatross trying to scavenge bits of mahimahi from the whales. We are hoping to re-locate the group over the next 12 days of the field project and be able to continue to collect information on this poorly known social group. Photo (c) Robin W. Baird
March 8th update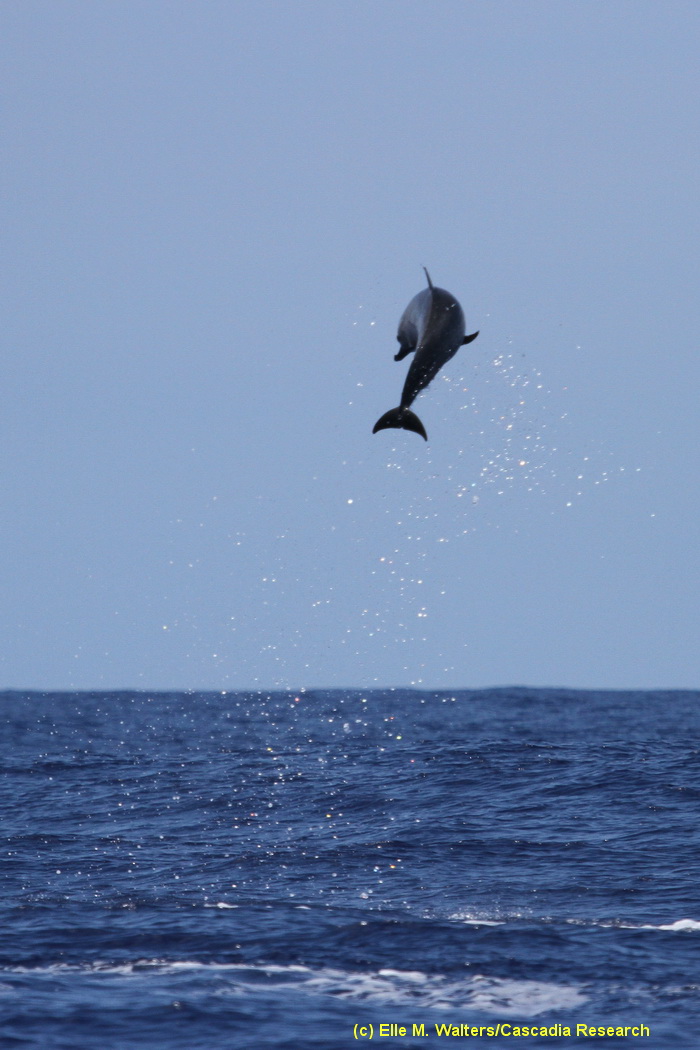 The last few days have been quite productive, with encounters with pilot whales all three days, as well as encounters with bottlenose and pantropical spotted dolphins. This photo shows a spotted dolphin leaping, probably trying to remove a remora. Photo (c) Elle M. Walters.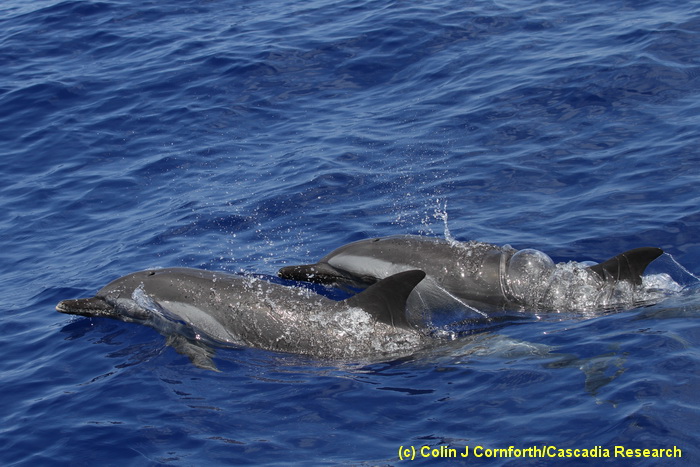 .
Over the three days we deployed three satellite tags, one each on a pantropical spotted dolphin, bottlenose dolphin, and short-finned pilot whale. Photo (c) Colin J. Cornforth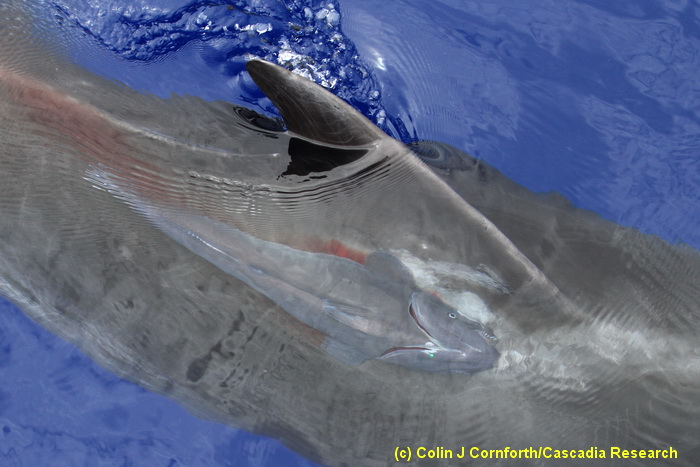 This bottlenose dolphin has a large remora attached just below the dorsal fin. Remoras are not benign hitchhikers on dolphins – they can do a lot of damage. This remora had caused a large wound at the base of the dorsal fin, and was working the wound to scrape off tissue to eat. You can see in this photo some blood streaming from the wound. Photo (c) Colin J. Cornforth.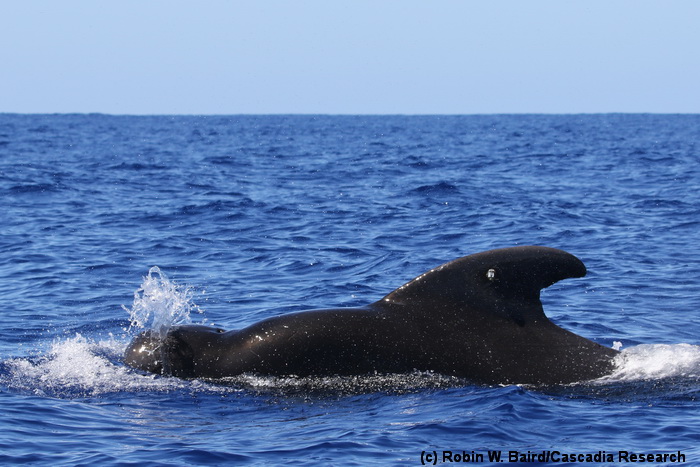 The satellite tag we deployed on the short-finned pilot whale on March 6th was a prototype Fastloc GPS tag, under development by Wildlife Computers, and we are getting good GPS locations from the tag. These tags should provide much more accurate locations than are available from the Argos satellite tags. Photo (c) Robin W. Baird.
March 5th update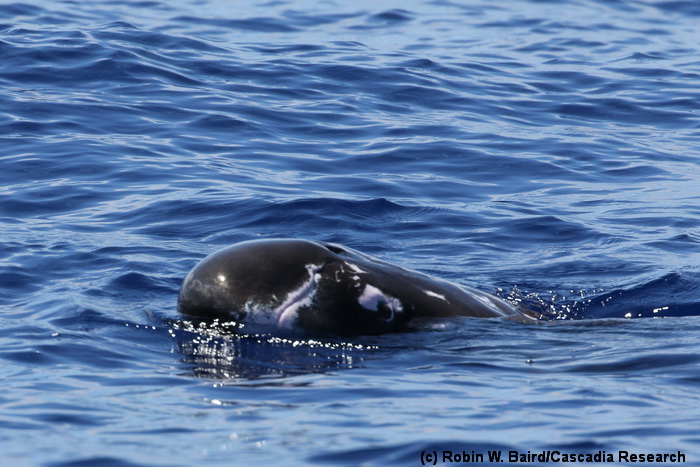 Today we encountered a group of pygmy killer whales off Lāna'i, our first encounter with this species in the area since 1999! Pygmy killer whales are one of the least-known species of oceanic dolphins in the world, and our study of them in Hawai'i is the only long-term study of this species anywhere. There is a resident population off Hawai'i Island, and another off O'ahu and Penguin Bank, but little is known about this species elsewhere. This photo shows the white around the lips, as well as several white scars, likely caused by cookie-cutter shark bites, and one cut (indentation) on the lip, likely a result of interacting with a fishing line. Photo (c) Robin W. Baird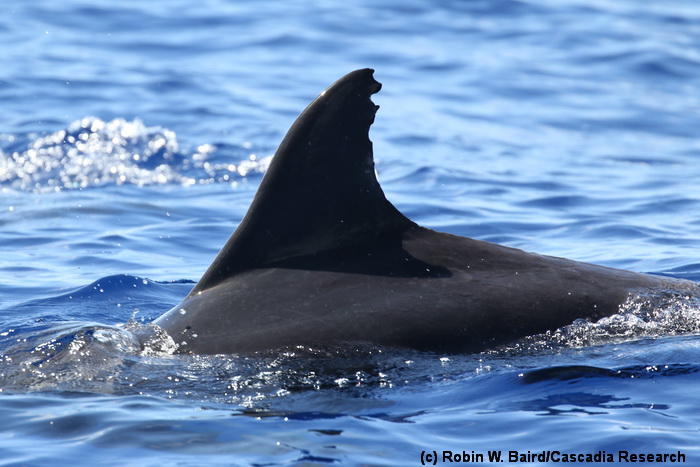 We were able to match several individuals to our catalog – this individual is HIFa349 in our catalog, an individual first documented off O'ahu in 2007, and seen there in 2008, 2009, and 2016. We obtained photos of about 15 different individuals, so should be able to assess whether this may be an area where the two populations overlap. Photo (c) Robin W. Baird.
March 3rd update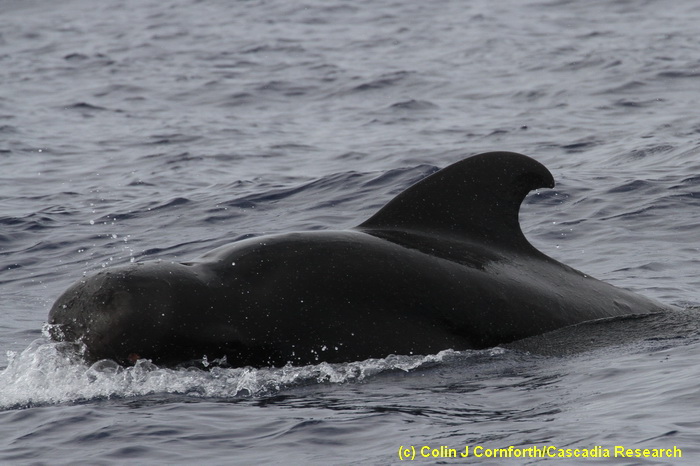 Today we were able to survey in relatively deep water (>500 m) to the southwest and west of Lāna'i, and found four different groups of short-finned pilot whales. We were able to photo-identify most of the individuals in each group, and are hoping they will help us better understand the local Maui Nui community of pilot whales. Photo (c) Colin J. Cornforth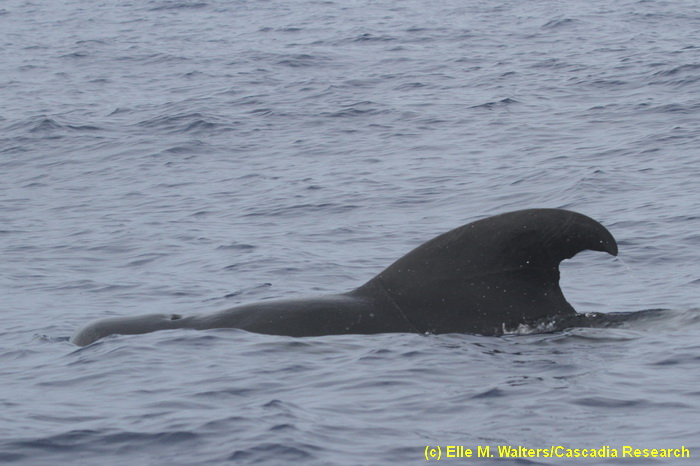 This adult male pilot whale was in the first group we encountered today. We were able to deploy a LIMPET satellite tag on this individual, our first satellite tag deployed in Hawai'i this year. We are hoping to be able to track this individual over the next couple of months. Photo (c) Elle M. Walters
This pantropical spotted dolphin has a hole through the dorsal fin, caused by a bite from a cookie-cutter shark. We are slowly accumulating photos of spotted dolphins in Hawai'i to establish a photo-ID catalog. Photo (c) Kimberly A. Wood
March 1st update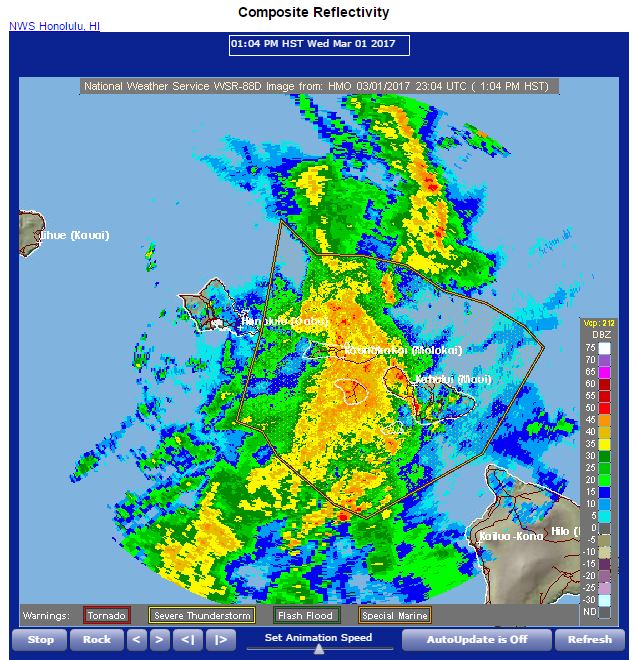 On February 28th we brought the research boat over from Lahaina to Manele Bay in calm seas, and found a pair of bottlenose dolphins (see below), but today working conditions were less ideal – heavy rain and strong winds prevented us from accomplishing anything other than gear preparation and dealing with other logistics.
On the crossing on February 28th we were able to get good photos of the two bottlenose dolphins, a mother and calf pair – in this photo (and the next) the calf is playing around the mother. Photo (c) Daniel L. Webster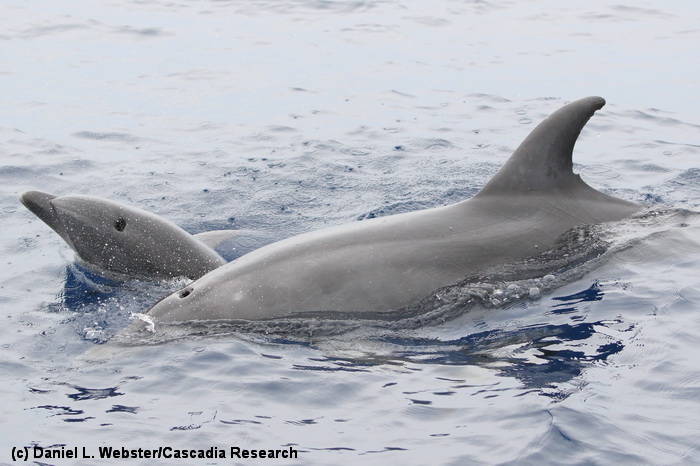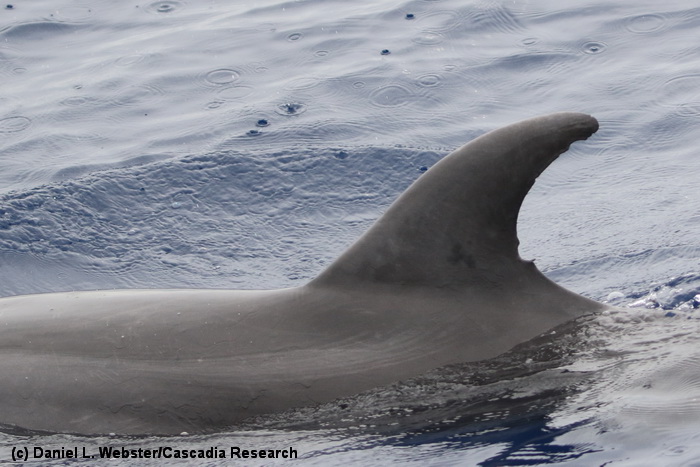 We were able to identify the adult female based on the notches on the trailing edge of the dorsal fin – this individual is HITt024 in our catalog, the 24th bottlenose dolphin that we identified in Hawaiian waters. She was first seen off Maui during a field project on February 19, 2001, just over 16 years ago!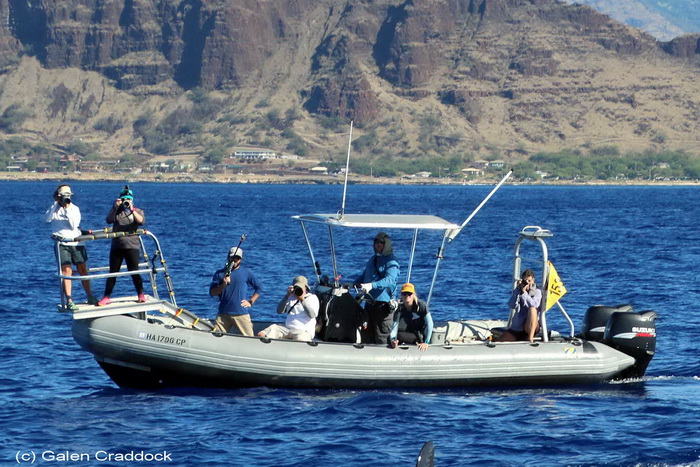 The research vessel we'll be using for this project, a 24′ Hurricane. Photo by Galen Craddock.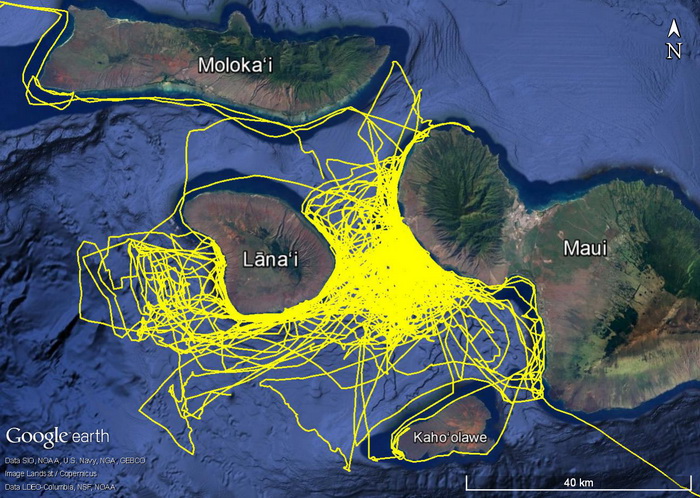 Our survey effort off Maui Nui in previous years (2000, 2001, 2002, 2003, 2012).
All photos are copyrighted and should not be used without permission (contact Robin Baird at rwbaird (at) cascadiaresearch.org for permission).
Like us on Facebook page if you want to receive notices of when information is posted and updates on other Cascadia projects.