We will be undertaking a 7-day field project off O'ahu starting January 4, 2016, a collaborative effort with the Pacific Islands Fisheries Science Center. We are excited to get back to O'ahu – most of our work in the last five years has been off either Kaua'i or Hawai'i Island, and since 2010 the only effort we've had off O'ahu was over four days in January/February 2015. We have a number of goals for our field work, but the primary one is to deploy LIMPET satellite tags on several species to better understand their movements and habitat use around O'ahu. We have funding for tags from a private foundation as well as from Dolphin Quest, and hope to deploy tags on one or more of short-finned pilot whales, bottlenose dolphins, rough-toothed dolphins, or, if we are really lucky, false killer whales. As usual, we'll be working with all species of odontocetes we encounter, trying to obtain photos for photo-identification catalogs, and we may also collect biopsy samples for genetic studies of species.
The research crew for this project will include Daniel Webster, Kim Wood and Robin Baird, all from Cascadia, Jamie Barlow and others from the NOAA Pacific Islands Fisheries Science Center, Chuck Babbitt, and a number of volunteers.
If you want some background information on our work in Hawai'i we published a paper on our first 13 years of surveys and a pdf is available here
If you are interested in what we saw during our 2010 O'ahu project check out our web blog for that effort
End of project update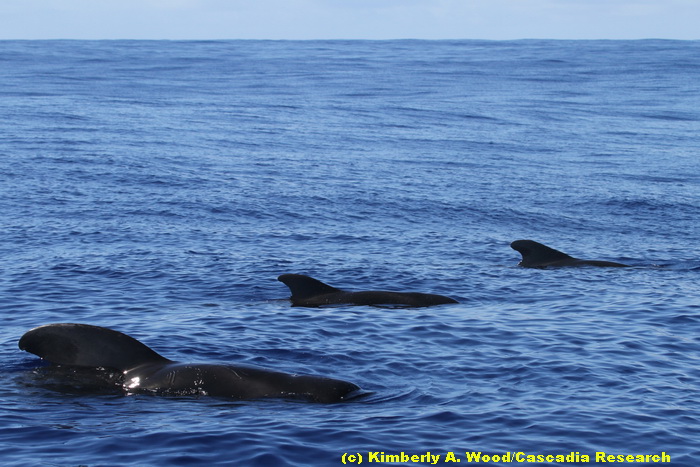 Our last day out this trip was January 11th. We were on the water for seven days and had over 1,000 km of survey effort, encountering 18 groups of six different species of odontocetes. Our most frequently encountered species for the trip was rough-toothed dolphins (7 sightings), followed by pantropical spotted dolphins (4 sightings). On our last two days we were able to survey both far to the northwest and far to the southwest, and encountered three different groups of short-finned pilot whales and were able to deploy satellite tags on adult males in two of the groups.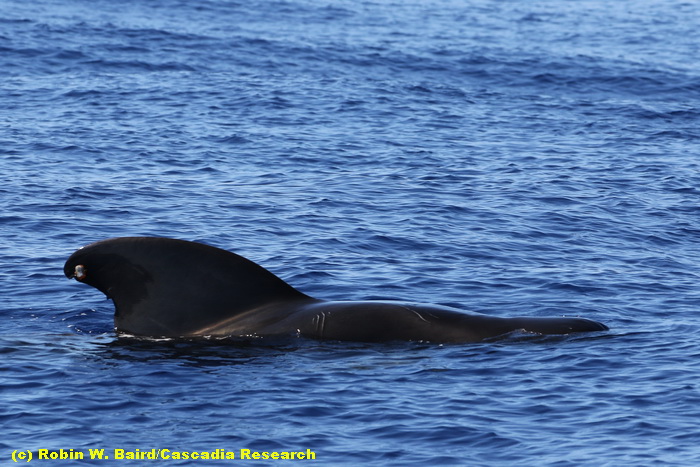 An adult male pilot whale with a LIMPET satellite tag on the dorsal fin, January 10, 2016. Photo (c) Robin W. Baird. For more information on pilot whales in Hawai'i check out our web page for that species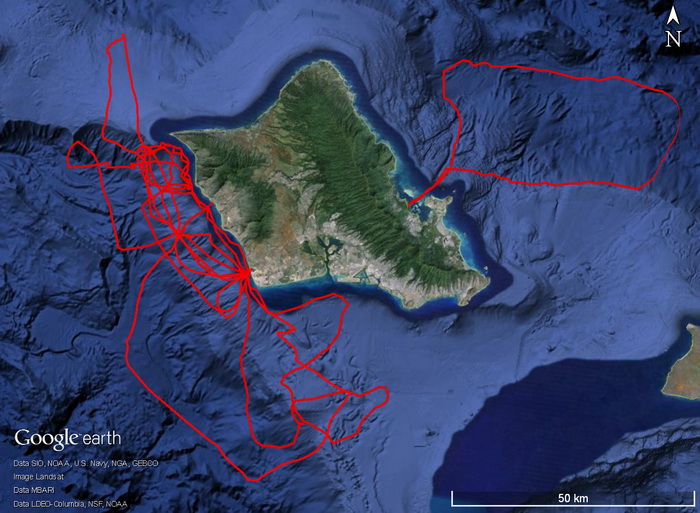 Our survey effort for this trip, over 1,000 km of trackline.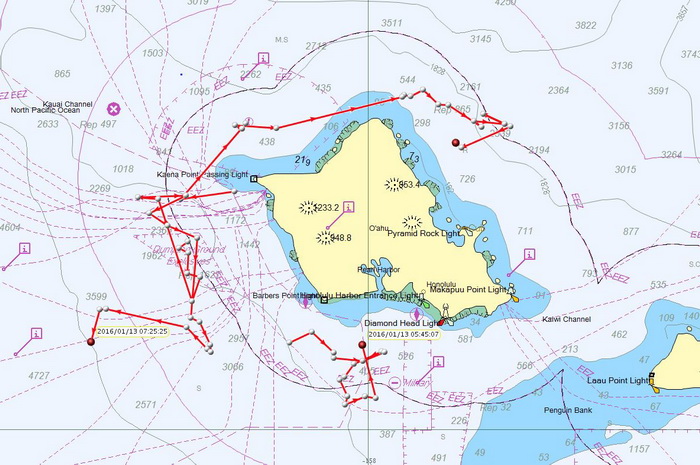 This map shows movements of the three individuals we were able to satellite tag this trip, from January 11th through the morning of January 13th. The individual off the west side of O'ahu is the spotted dolphin, and the individuals off the south and northeast sides of the island are pilot whales.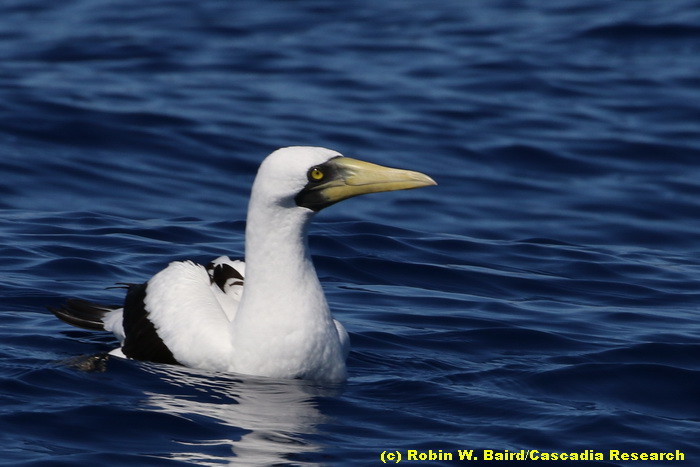 A Masked Booby seen January 10th, 2016. Photo (c) Robin W. Baird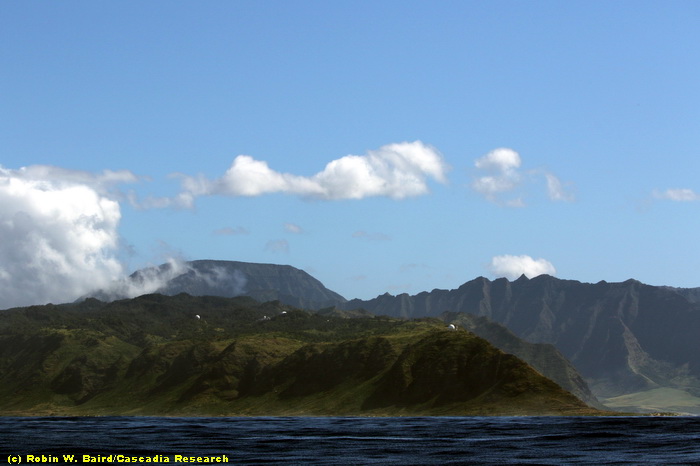 A view of Kaena Point, the western-most tip of O'ahu, from the north. Photo (c) Robin W. Baird
January 8th update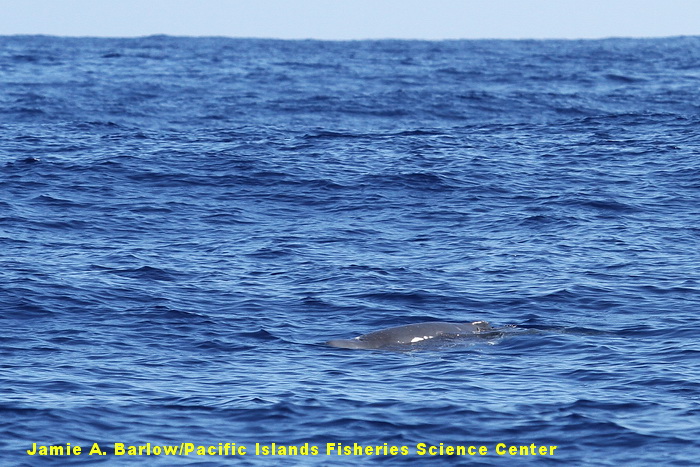 In the last couple of days we've been able to cover areas we rarely get to – yesterday well to the south of O'ahu, and today off the windward side of the island, to the northeast of O'ahu. Despite covering over 320 kilometers on the two days, most of it in good sea conditions, we had only three odontocete sightings, although two of them were quite unusual ones. This photo is of a pygmy sperm whale (Kogia breviceps) seen today, only our sixth sighting of this species (and our first off O'ahu) in all the time we've been working in Hawaiian waters. Photo by Jamie A. Barlow/Pacific Islands Fisheries Science Center.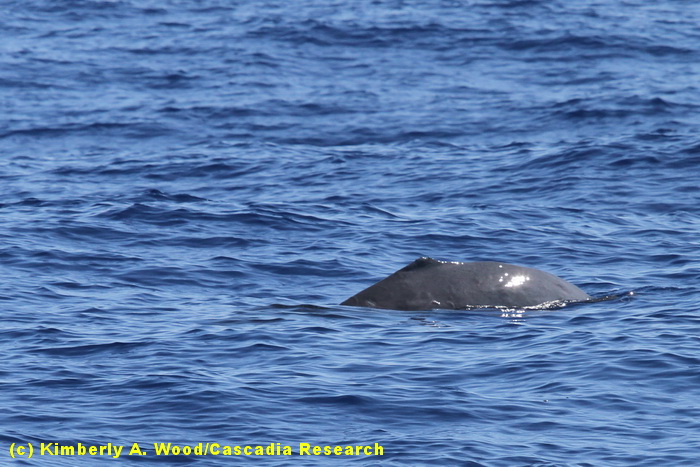 Another photo of the pygmy sperm whale as it dives. This species, like the closely related dwarf sperm whale, primarily "logs" at the surface, and often only the head and part of the back are visible while it logs, with the dorsal fin submerged. This individual has an injured dorsal fin, with the top of the fin missing. For more information on dwarf and pygmy sperm whales in Hawaii see our web page for these species. Photo (c) Kimberly A. Wood.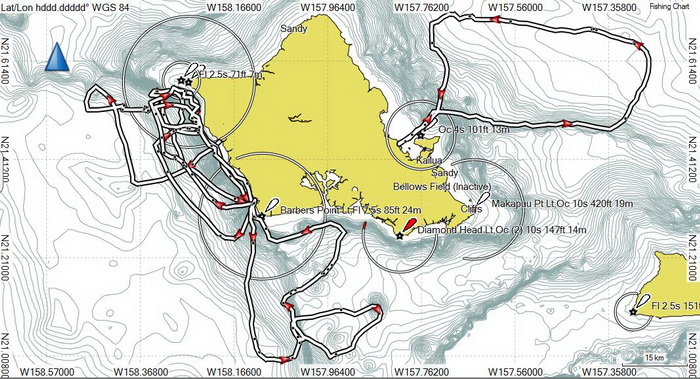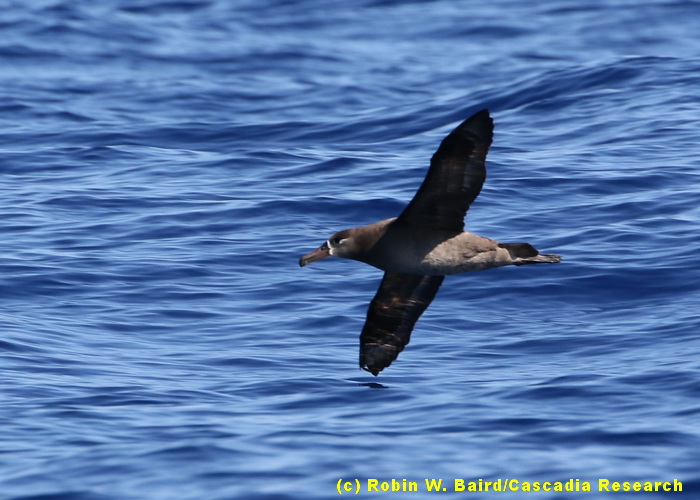 We also saw our first albatross of the trip today, this Black-footed Albatross far to the northeast of O'ahu. Photo (c) Robin W. Baird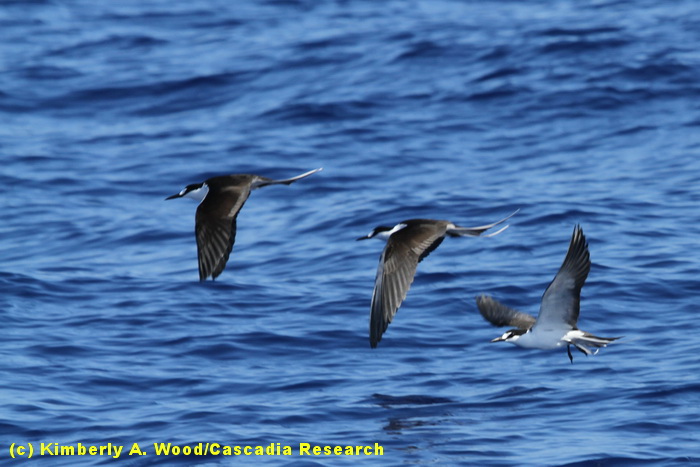 Sooty Terns, the most common seabird we've seen so far this trip. Photo (c) Kimberly A. Wood.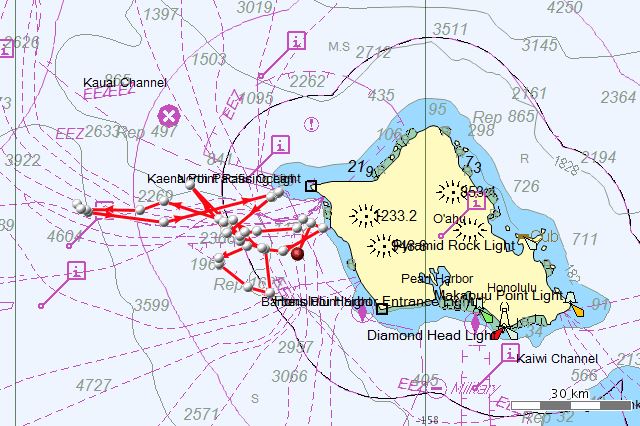 Movements of the spotted dolphin since we tagged it earlier in the week are shown in this map.
January 5th update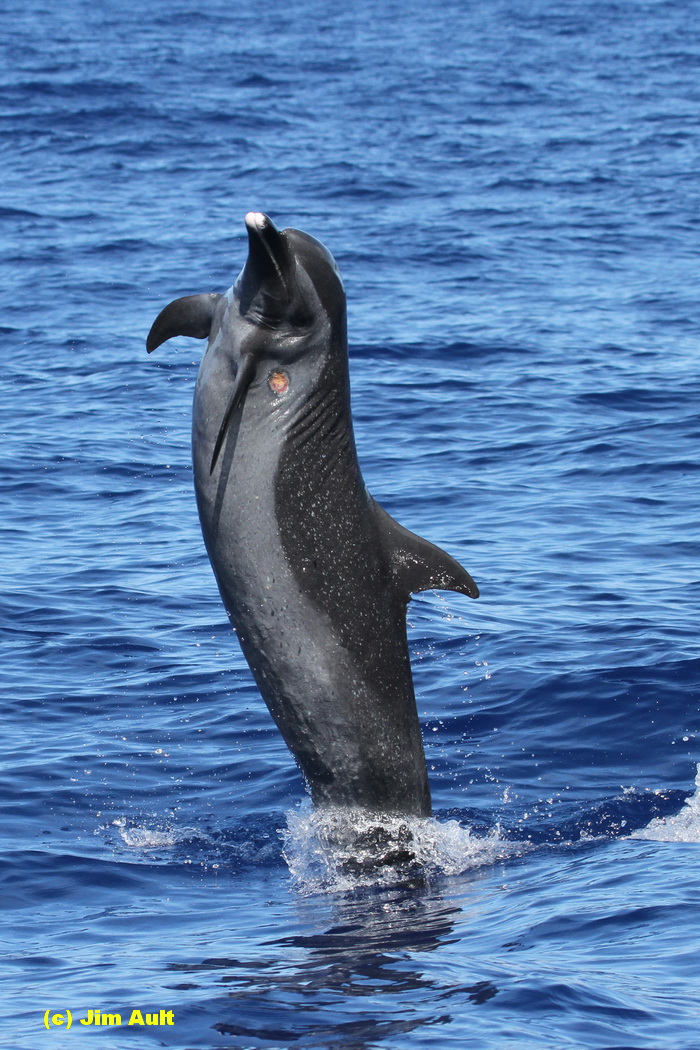 A good start to the trip. Today we found two groups of pantropical spotted dolphins, and were able to deploy a LIMPET satellite tag on one individual. This is only the second time we've satellite tagged a spotted dolphin in Hawaiian waters (the first time was off Kona in April 2015). Based on genetic analyses it is known that there are three different island-associated populations of spotted dolphins in Hawai'i, one off O'ahu, one off Maui Nui, and one off Hawai'i Island, but little is known about the movements of individuals around the islands. This photo (not the tagged individual) shows a pantropical spotted dolphin leaping, January 5, 2016. Photo (c) Jim Ault.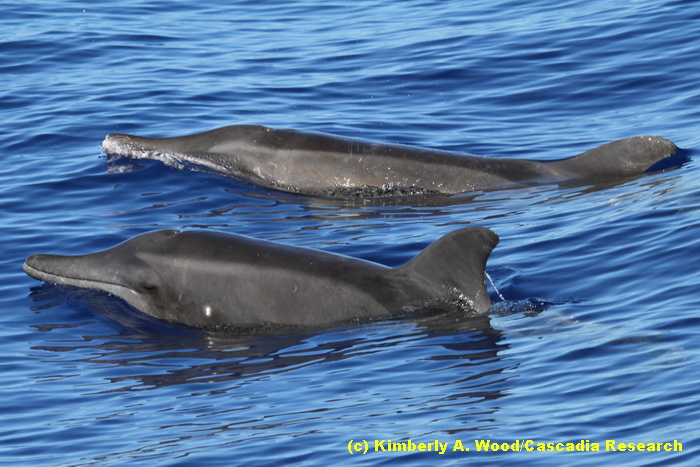 On our first day out we encountered five gropus of rough-toothed dolphins, and were able to get ID photos of many individuals. Our photo-ID catalog of rough-toothed dolphins in Hawaii contains over 800 individuals, but off O'ahu we only have good documentation of about 50 individuals, so these encounters will be very useful for assessing site fidelity and movements among the islands. This photo was taken January 4, 2016. Photo (c) Kimberly A. Wood/Cascadia Research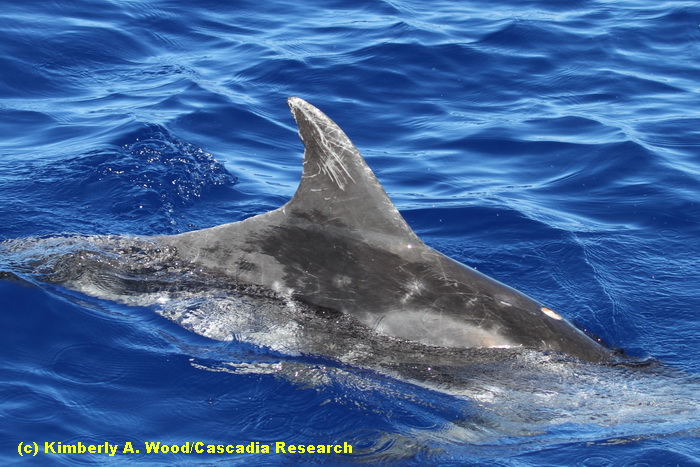 A very well-marked rough-toothed dolphin, January 4, 2016. Photo (c) Kimberly A. Wood/Cascadia Research.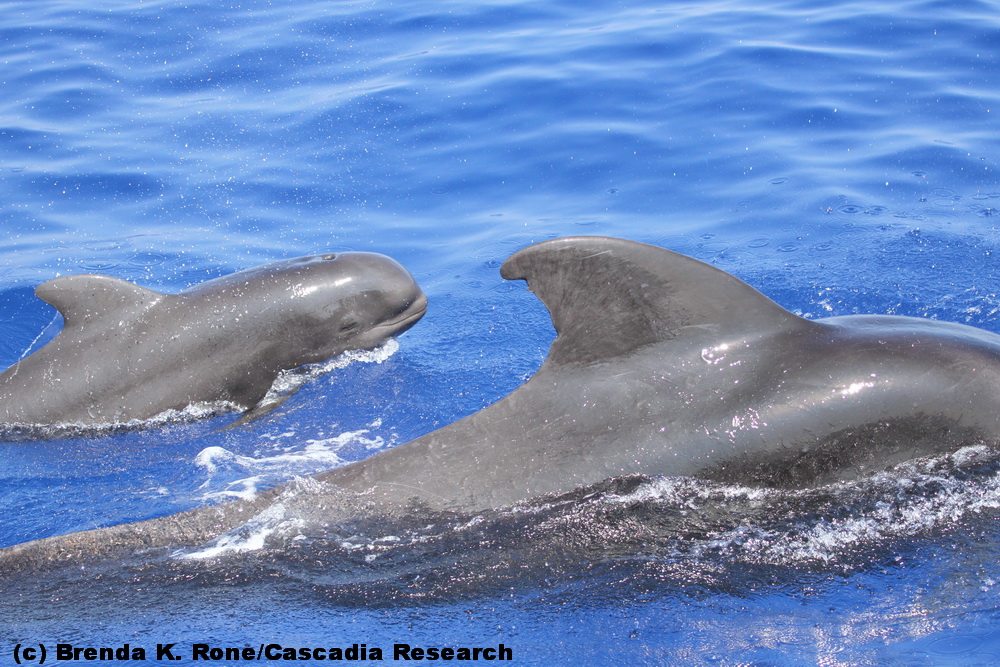 This photo is from our effort off Oahu in January/February 2015, a mother-calf pair of pilot whales in a group that we encountered. Photo (c) Brenda K. Rone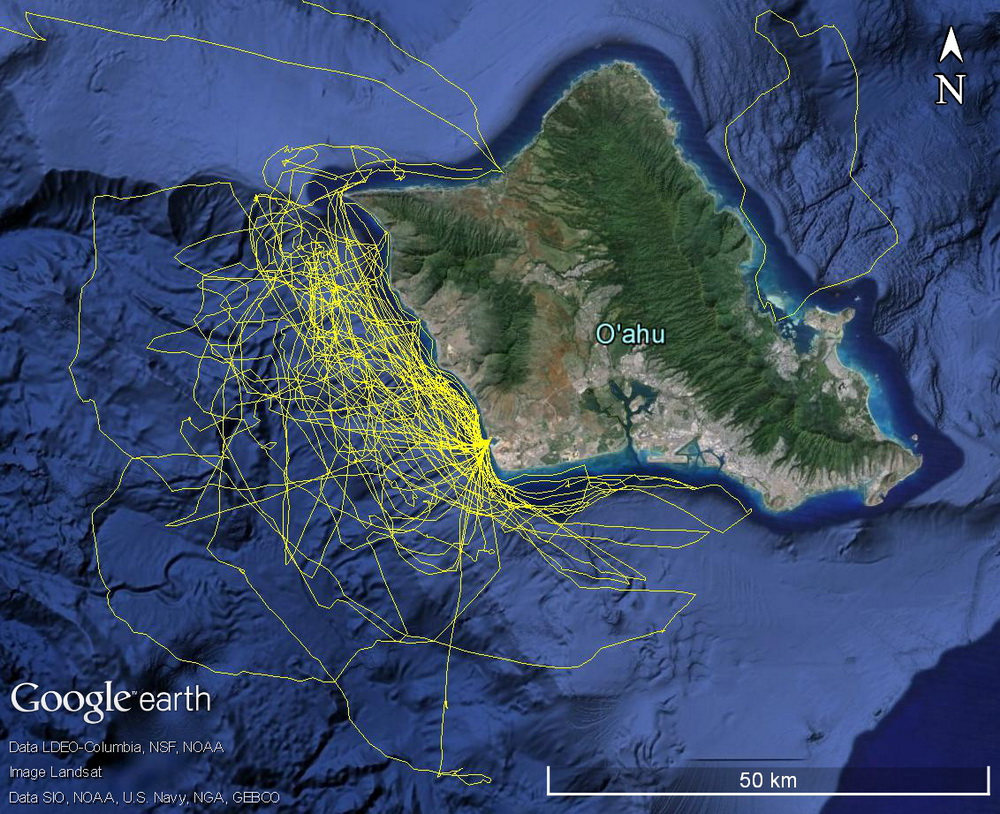 Our survey effort in previous years (2002, 2003, 2010, 2015).
All photos are copyrighted and should not be used without permission (contact Robin Baird at rwbaird (at) cascadiaresearch.org for permission).
Like us on Facebook page if you want to receive notices of when information is posted and updates on other Cascadia projects.