Released by Cascadia Research, Olympia, WA, 15 August 2007
For additional information contact:
John Calambokidis, Cascadia Research (360)943-7325, calambokidis@cascadiaresearch.org
John Ford, Fisheries and Oceans Canada (250) 729-8375, fordjo@pac.dfo-mpo.gc.ca
A whale survey just completed off the BC coast has identified the largest concentrations of endangered blue whales documented in these waters in more than 50 years. Blue whales are the largest animal that has ever lived. They were wiped out by commercial whaling that targeted these biggest of all whales in hunting that continued through 1966. While populations in some areas have shown recovery, blue whales have remained rare in BC waters, an area that that over 1,000 were killed through 1965.
The survey, conducted aboard the Canadian Coast Guard Ship John P. Tully by Fisheries and Oceans Canada (DFO) in collaboration with Cascadia Research (a Washington State non-profit research organization), found five blue whales (including a mother with a calf) on one day and three on the following day (some of the same five whales). The 10-day survey that just ended Monday, 13 August 2007, covered offshore waters off northern Vancouver Island, Queen Charlotte Sound, and west of the Queen Charlottes and documented more than 400 sightings of 11 species of whales, dolphins, and porpoises. Large numbers of fin whales, humpback whales, sperm whales, and killer whales were also found on the surveys.
"The sightings of blue whales were the biggest surprise of what was already a very successful trip" said John Ford, a DFO biologist who was Chief Scientist for the cruise. They were found in one area southwest of the Queen Charlotte Islands in deep water feeding on krill. This was close to some of the principal areas they were killed by whalers based in Rose Harbor in the early 1900s.
The world-wide blue whale population that once numbered over 300,000 is still thought to be under 10,000 even more than 40 years after the end of hunting for them. They are listed as Endangered under the Canadian Species-at-Risk Act. While blue whale sightings have become more common in recent decades in some areas including off California, there has only been very recent evidence of their return to British Columbia. Joint surveys conducted by DFO and Cascadia going to some of the former whaling grounds each summer since 2002, have found one or two sightings of blue whales in some years. Prior to that there had only been a few verified sightings since the end of whaling. The numbers sighted during the recently completed survey almost doubles the total documented sightings in the last 40 years in BC waters.
The blue whales off BC appear to be part of the population that uses the eastern North Pacific ranging from off Central America to Alaskan waters. Individual blue whales can be identified and tracked by natural markings on their sides. Cascadia Research has maintained a catalog of individuals identified in the eastern North Pacific and has matched some of the individuals seen in BC with those seen feeding off California. "It appears likely that the distribution of the prey of blue whales must be favorable off BC, bringing more of these giant mammals back to BC waters" said John Calambokidis, a Research Biologist with Cascadia Research who has been studying blue whales in the North Pacific since 1986 and documenting their movements and populations.
Both DFO and Cascadia will be analyzing the data, identification photographs, and samples collected in this cruise in coming weeks and months. These will provide additional information on the specific individuals seen in the latest cruise. This will include comparison of identification photographs of blue whales to over 1,000 individuals identified elsewhere in the North Pacific.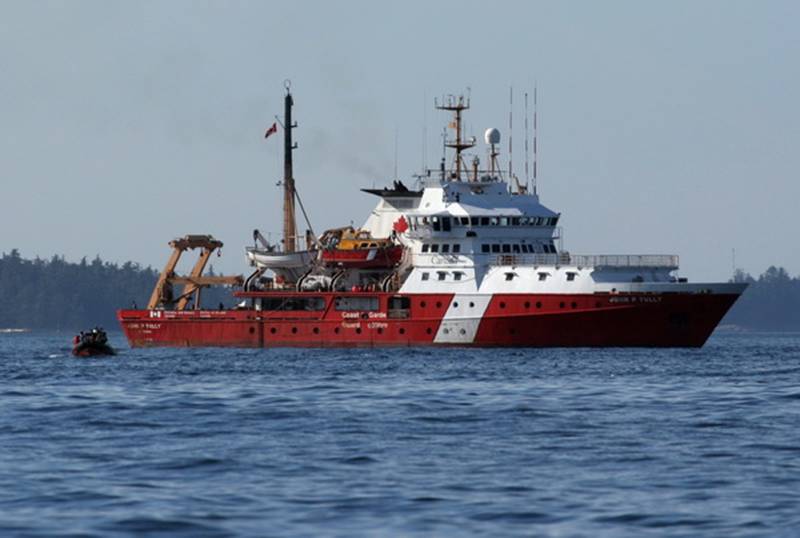 Canadian Coast Guard Ship Tully with deployed boat during whale survey off Queen Charlotte Islands. Photo by John Calambokidis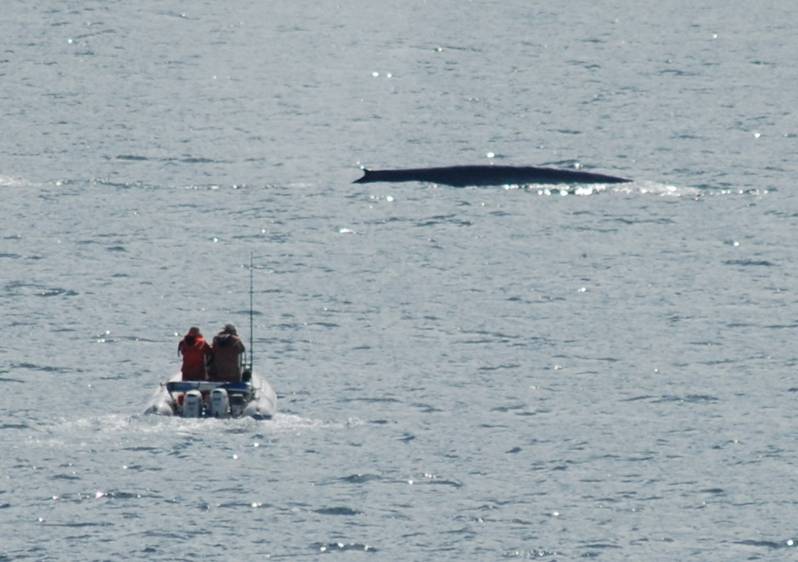 Researchers approach blue whale to obtain identification photographs. Photo by Alana Phillips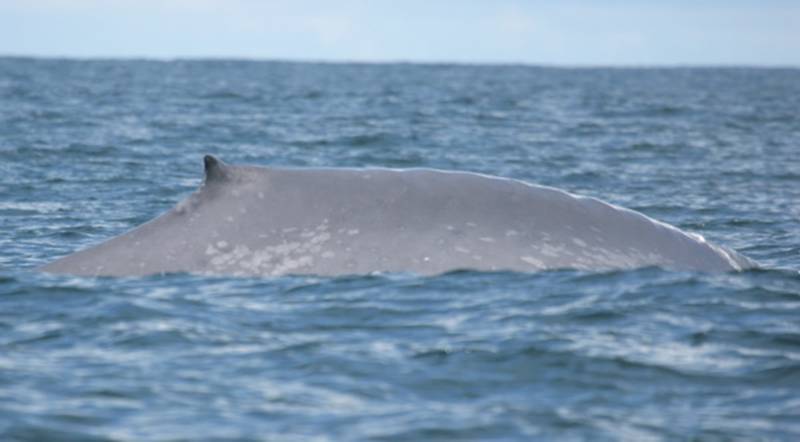 First blue whale encountered in survey showing distinctive light pigment and small dorsal fin. Photo by John Calambokidis